Posted on January 30th, 2009 in Daily Mortgage/Housing News - The Real Story, Mr Mortgage's Personal Opinions/Research
**PLEASE NOTE – I AM MOVING as of today…I will be delivering reports via email for a couple of weeks until the new site is up. Please 'subscribe' for email delivery of content so I have your address. My new site will not be up for a few weeks so if you do not subscribe you may not be able to find me. Just enter your email address in the box to the right and 'subscribe' and I will add your address. You can subscribe after the end of January and I will still get your address. IMPORTANT – you will get back a confirmation email that may go to your spam filter so be sure to look for it.
My email address is MrMortgageTruth@gmail.com
**MR MORTGAGE & THE MR MORTGAGE ORGANIZATION DOES NOT SUPPORT OR ENDORSE ANY FIRM MENTIONED OR ADVERTISING ON THIS WEBSITE HENCE FORTH**
Farewell Post – House Sales & Mortgage Loan Default/Foreclosure Round-up
Endless Housing Inventory – Shadow Inventory
The Pay Option, Alt-A, Prime and Subprime Default Waves
Housing – 'Shadow Inventory' & Defaults Provide Endless Supply
'Why do values keep falling when sales have picked up and there is less inventory?' I get asked that question constantly. Part of the answer is 'shadow inventory', which real estate associations, banks and FDIC don't count.
Shadow inventory is REO on the shelves of banks and servicers not listed with a real estate broker. Because the 'months supply' figures are given out by the real estate associations based upon listed homes and most REO is not listed, the supply figures have been incorrect for over a year. To accurately estimate supply you must track the foreclosure market and add back in foreclosures as supply, listed or not.
The real estate associations do not do not add back REO inventory into the supply. As a matter of fact they take the present month sales, multiply by 12 then divide by the amount of known listed inventory. They then throw on some magic 'seasonal adjustments' to make everything 'alright'. This leads to press releases like the CA Assoc of Realtors put out this week citing 545k annual home sales and 5.6 months supply in CA. This is as far from reality as any report I have ever seen on housing.
C.A.R. reports 07 – 08 sales increased 84.9% (DataQuick shows 2.6%)
Closed escrow sales totaled 544,580 in December (DataQuick shows 37.8k in Dec)
Unsold inventory is 5.6 months vs 13.4 months at end of 07 (We show 21.8 and 11.3 mos)
On the REO front I have seen figures quoted by the FDIC many times that pins the total national bank REO in the low $20 billions. That number is light. This is because they only quote REO volume owned by the banks on balance sheet. They don't count loans that they service. Given 65% +or- of all loans were securitized/sold relying on FDIC estimate of REO will also get you into trouble.
"The value of REO property on the books of FDIC-insured banks at the end of the third quarter surged 21 percent from the previous quarter, to $23 billion. That total — which includes single-family to four-family homes valued at $11.5 billion and another $1.5 billion in property purchased with FHA-backed loans securitized by Ginnie Mae — represents a 134 percent increase from a year ago, according to the latest quarterly report from the Federal Deposit Insurance Corp."
I have kept a monthly chart with every aspect of the housing market including defaults and REO for two years. Below is annual summary info. When you look at the real data, you can see why housing prices keep falling and there seems to be endless supply – it is because there is!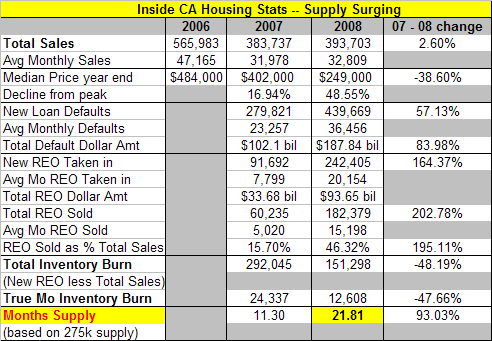 CA REO Count and Dollar Amount
Below shows the annual and two-year REO totals by count and dollar amount. Based upon DataQuick data, which tracks the percentage of properties sold each month from the foreclosure stock, and our default and foreclosure data nearly half the 2008 REO is still in inventory somewhere.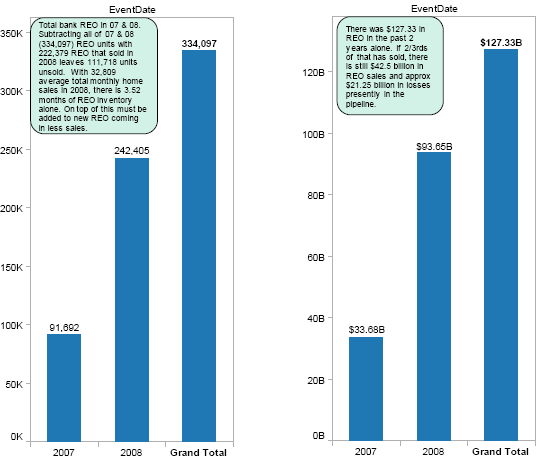 CA Loan Default Count and Dollar Amount
In rough terms, CA makes up 35% of total loan defaults and 42.5% of the total dollar volume for the nation. Below shows annual and two year loan default totals by count and dollar amount. Over half of the 2008 defaults have not yet resulted in REO. There is a foreclosure/REO wave that was kept at sea due to SB1137, CA's temporary foreclosure moratorium.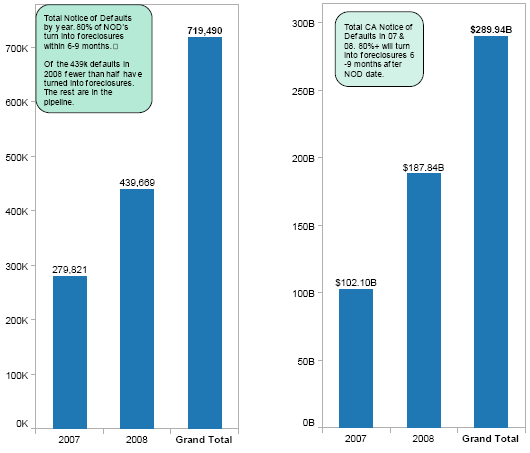 Defaults across the Pay Option, Prime, Alt-A and Subprime Universes
Below are several charts showing the Pay Option, Alt-A, Prime and Subprime default universes. If anything in which you invest is at all tied to the demographics in each loan type, knowing how each universe is performing in real-time is imperative. The following proxy charts are well ahead of ratings agency downgrades and have been a great predictor of many things other than bank implosions.
The charts show a two year default history for the respective loan types tracked through a method using proxy originators. These can be drilled down by originator even into individual securities in many cases. This is the closest and most real-time look you will get on the rate-of-change for each loan type.
Pay Option ARM Default Wave
Other than the SB1137 dip and despite many Pay Option holders on large-scale loan modification pushes, Pay Option defaults have not eased up.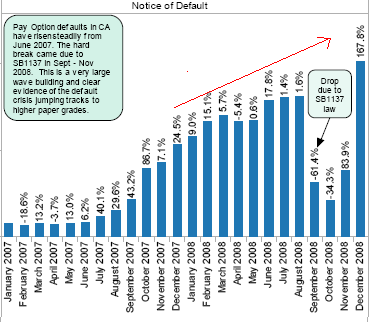 Prime Default Wave
The same SB1137 dip is seen here and like the Pay Options, defaults are steadily rising.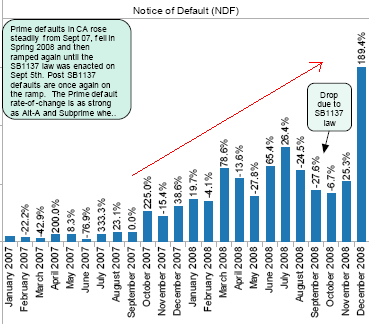 Alt-A Default Wave
Unlike Pay Options and Prime, the Alt-A universe took a dip down in early spring but rebounded sharply mid-Summer. Since defaults have surged. The Alt-A default universe is absolutely unique. Moody's released some interesting info this week.
"Moody's noted that many loans were labeled Alt-A even though they were subprime. In addition, an increasing share of Alt-A loans included weaker documentation, non-owner occupied properties and two- to four-unit properties. Moody's projects that cumulative losses will reach around 20 percent on 2006 vintage Alt-A RMBS and 24 percent on 2007 issuances.
While around 90 percent of Alt-A RMBS rated by Moody's were downgraded last year, the New York-based ratings agency said it will again review its ratings on 2006 and 2007 vintages in light of its updated outlook. Transactions from 2005 will also be reviewed."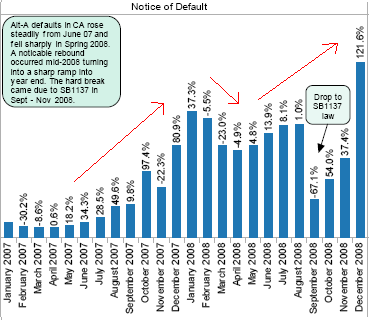 Subprime Defaults
The power surge seen in 2007 eased off in early 2008, dropped late spring and has stayed flat. Other than redefaults on modified loans, I think the worst of Subprime is behind us. The problem is…'Subprime is such a small slice'. That is what they said two years ago when downplaying the entire mortgage/housing crisis. Now the same statement brings terror when such a small slice can do so much damage and the larger slices depicted above are acting much in the same way as Subprime did in 2007.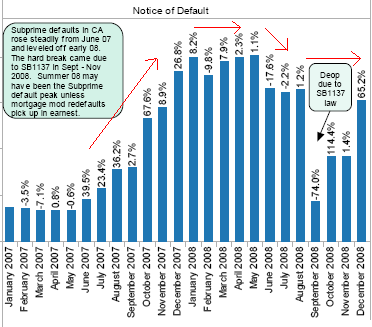 **If you are an investment fund looking for more information in our default/foreclosure related research including real-time mortgage default, foreclosure and loss tracking across large-named publicly traded companies, please email me at the address below. Looking ahead of the housing and mortgage market and into bank's residential mortgage portfolios and balance sheets is now much clearer.
MrMortgageTruth@Gmail.com
413 Comments »