Posted on June 30th, 2008 in Daily Mortgage/Housing News - The Real Story, Mr Mortgage's Personal Opinions/Research
I wanted to actually 'see' the effects that exotic loan programs had on home price appreciation and I believe this chart, together with my written 'bubble-years event log' below, tells quite a story.
This simple visual clearly demonstrates how 'low monthly payment' engineering through the creation of exotic loan programs was almost exclusively responsible for the major housing bubble in CA. If you substitute the CA data with data from your state, I am sure it will look similar. Recently, Greenspan said exotic loan programs were not responsible for the bubble prices. I think he is mistaken.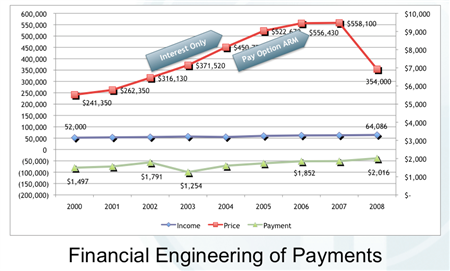 *household income is not inflation-adjusted. Monthly payments based upon typical interest rates for that period
Chart Findings and Facts:
-Until 2002, before the age of exotic loan programs, housing prices were driven by tradition economic factors such as supply and demand, the broader economy and interest rates. The rate of appreciation was in-line with previous Real Estate market expansions. Loan programs were mostly traditional.
–In 2002, payments for the median home reached the upper end of affordability at the time. All of a sudden in mid-2002 the intermediate-term 3/1, 5/1, 7/1 and 10/1 fully amortized and interest only loan programs were introduced. These programs carried a much lower rate than a traditional 30-year fixed rate for the respective 3, 5, 7 or 10 years. These were among the best-selling loan programs in the bubble states.
At the time if 30-year fixed rates were at 5.5% a 5/1 interest only for example, may have been priced as low as 4.5% with qualifying at the interest only payment rate allowed. These programs brought affordability back and housing prices soared nearly 50% in a little over 2-years. In 2004, as payments once again got to the upper end of affordability, limited documentation programs such as Stated, No Ratio and No Doc were rolled out, which carried home prices even higher.
– In mid-2004, payments again were making affordability out of reach, so lenders began pushing the Pay Option ARM as one of their top offerings. This program had been around for years at World Savings (now Wachovia) and WAMU, but when the investment banks got into the Pay Option ARM game, every middle market mortgage banker, mortgage broker and bank became a Pay Option pusher. These loans were branded as a 'safe' alternative to traditional loans and a way to 'save' money by paying a rate as low as 1%. Borrowers were told 'negative amortization does not matter because your home value will increase faster than the negative amortization and you can always refi.' We now know this is not the case.
–By 2006, payments again reached the upper end of affordability but there was no other loan programs that they could invent that could compete with a Pay Option ARM. At the time you could get a 100% stated income Pay Option ARM! Values went flat.
–In 2006 with nothing left to sell, the banks went into the Home Equity Line of Credit (HELOC) game. This allowed people to easily borrow up to 100% of the value of their homes, which kept values stable for a year despite home sales volume falling off of a cliff. This HELOC liquidity injection lasted until the end of summer 2007 when prices everywhere fell off of a cliff. This marks the end of the great housing bubble.
-As of May 2008, prices are down some 30% in the past 12-months but payments are still far above the current affordability level. The market needs to find equilibrium and a clearing level but given the state of the economy, elevated interest rates, inflation. massive supply, consumer confidence over Real Estate, tightening lending standards and the lack of any affordable loan programs do not draw a line in my chart straight across from 2004 adjusting for rising income. This is because all of these negatives almost make it certain that housing prices have a long way to go and will overshoot to the downside, as all popping bubbles in the past have done.
Thanks for Sean O'toole form Foreclosure Radar for help with this post.
OTHER RELATED MR MORTGAGE RESEARCH STORIES
Record-Breaking CA May Foreclosure Report
CA Housing Stats, The Real Story…4.25-years Supply?!?