Posted on July 16th, 2008 in Daily Mortgage/Housing News - The Real Story, Mr Mortgage's Personal Opinions/Research
Downey Savings is widely rumored to be the next 'IndyMac' due to their heavy Pay Option ARM exposure.
Did you know that they paid their mortgage broker clients up to $50k PER LOAN in rebate-based commission?  They allowed this up until last week!
The rate sheet below clearly shows they are advertising this fact.  Yes, that is a $50k commission for one loan!  This goes to show how easy it was to sell one of these loans, even with high enough margins for some unscrupulous brokers to earn a $50k commission, and how hungry the banks were for these loans.
Offering a $50k maximum commission that can be earned by putting the borrower into the highest margin and longest pre-payment penalty loan available is essentially a green light to take advantage of the consumer. Even if all loan fees were built into a $1.5M loan amount, the net commission would probably be near $43k.
For the record, I am the biggest broker advocate around. Without brokers, banks have a monopoly and the mortgage/real estate sectors will suffer. Many may deserve to make $50k on a deal. It is just when the banks structure programs such as this with high margins and long prepays in order to achieve a yield spread premium that would pay a $50k commission, you can destroy the borrower and that is what we are seeing right now.
Below is Downey's Pay Option ARM rate sheet. This may be some of your first time actually looking a this monster called a Pay Option ARM, so I advise you to put the children out of the room and be careful. This program has torn banks to shreds and made their CEO's act like whimpering children. Click to enlarge and then hit ('control and +) to enlarge.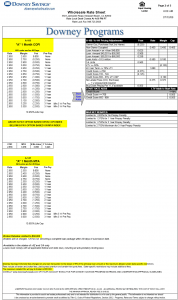 To be fair, most other lenders paid amounts such as this and more during the bubble years. I just didn't think anyone was still allowing broker rebate levels this large nowadays.
THE PAY OPTION IMPLOSION
As you know the 'Pay Option ARM Implosion' is upon us. These toxic loans have taken down nearly everyone who has ever touched them, beginning with American Home Loans last year.
The largest Pay Option lenders in the nation are a who's who of leading troubled lenders such as Wamu, Wachovia, Countrywide, IndyMac, American Home, Downey Savings, First Federal, Bank United and even Bear Stearns, Deutsche Bank and Lehman to some degree. However, the latter three served mostly in the 'investor' or 'conduit capacity during the bubble years. The Pay Option ARMs they have left are the ones they were unable to dump when that market seized up in mid 2007. They could still be liable for damages caused to bond holders when these loans go really bad in the future.
The banks mentioned made a conscious decision to keep these loans due to their much higher yields for 'Prime' borrowers than the typical 30-yr fixed loan or other ARMs.
Downey was the last to offer Pay Option ARMs. They just recently stopped abruptly last week. When lenders stop doing certain loans it is not because they are making a fortune on them…just the opposite. You have seen lenders cut out loan programs since early last year, starting with subprime. The Pay Option was Downey's top program for years.
Don't ya think they would have done this earlier? Perhaps, sometime BEFORE the stock price fell from $75 a year ago to $2.06 today? Perhaps Cramer telling everyone in July of 2007 it was going to $100 and writing 'DSL' across his knuckles kept the hope going beyond all reason. Heck, the stock price was at $38 on Feb 1st 2008!  Everyone knew Pay Option ARMs would take down any company that owned them. I don't understand why banks did this to themselves.
"From Downey Savings On Neg-am (Pay Option ARMs) loans:
Effective immediately, we will be eliminating the Portfolio Products A100 and A141. All loans in the system will need to lock by close of business Monday July 14, 2008.  The loans must fund by Friday August 29, 2008. "
I saw Notice-of-Default rates on Pay Option ARMs begin to surge in Q4 2007.  A kid in a high-school investment club could have figured this one out last year, but the smartest analyst in the room, the banks and the OTS couldn't.  Don't you understand that surging income off of Capitalized Interest from Negative Amortization (CINA) is phantom income that most likely will never be collected?  What a shame.
PHANTOM EARNINGS USING PAY OPTION ARMS
Remember, all of these banks will have significant earnings restatements in the future due to CINA.  CINA, sometimes referred to as deferred interest income, is booked as revenue and based upon the highest possible monthly payment even though 80% of borrowers only pay the minimum amount and the differential (negative amortization) is never actually collected.
CINA will most likely never be realized, even in the case of foreclosure. Regardless, it may never be realized due to housing prices crashing 30% on the median in California in the past 12-months. Roughly 55% of all Pay Option ARMs are in California, which was the most popular state for these loans. 
Most cannot sell or refinance because of the negative equity in their homes, and homes are not selling in foreclosure other than back to the banks who took back 96.8% of all homes that went to auction in California last month.  Please see my June Foreclosure Report for more detail.
One thing is for sure, Pay Option ARMs were absolutely the most toxic loan program ever created, even worse than subprime 2/28's and 3/27's.   -Best, Mr Mortgage <>
Other Related Mr Mortgage Stories