Posted on July 23rd, 2008 in Daily Mortgage/Housing News - The Real Story, Mr Mortgage's Personal Opinions/Research
Our nations largest banks are being weighed down by 2nd mortgage liens (Home Equity Lines/Loans or HELOCs).  You have heard this in many of their earnings calls recently.  The home equity market is thought to be as large as $1.3 trillion.
For many banks this is their largest residential mortgage exposure. For example, Wells Fargo still carries $84 billion and Bank of America and Chase about $100 billion a piece. The banks were very touchy in their recent earnings reports on this topic. Wells Fargo actually changed the definition of 'default' from 120 days to 180 days to push out defaults further consequently hiding losses. See my report on Wells Fargo's mystery earnings.
Real losses on 2nd mortgage portfolios will befall the banks, as values continue to fall and these newly unsecured loans default without the ability for the bank to foreclose. But now it looks as though the tax payers could shoulder much of the risks FHA will assume when doing all of these bailout, 'underwater refis'. 
How much can FHA shoulder when they admitted lately that they were on the brink after a $4.6 billion loss and have an 18% default rate. Mish wrote about it recently.  Why would these loan perform any better than private sector subprime loans that have been modified in the past.
A recent report just came out that said 50% of all previously modified subprime loans are now in some stage of default. This is the 'negative equity effect', 'borrowers never qualified in the first place epidemic' and 'public sector non-profit loan modification ignorance' in full-force. 
"Analysts at Moody'slast week said that 42% of all ARM subprime loans previously modified during the first half of 2007 are now 90-days or more delinquent by March 2008. That number goes up to 50% when looking at loans 60-days delinquent."
One hope is that few will qualify because of the required full documentation or won't want the 'deal' when they realize that even with their principal reduction, that their payments will actually increase over their exotic interest only 2/28, 3/27 or Pay Option ARM. In most cases it still may be cheaper to walk away and rent.
Added last minute to the underwater refi, Fannie/Freddie, FHA, Wall St, Foreign Gov't, Washington DC, bank and investment bank bailout was a '2nd lien provision' making the 2nd mortgage holder an equity partner in your home as well. Remember, HELOCs are likely near total loss for the banks over time. Not any more.
Already in the original bailout proposal, banks get to turn their toxic first mortgages into FHA at a much smaller haircut (principal reduction) than these toxic loans are selling for on the street. Now, banks can give up their toxic 2nds in exchange for appreciation in your home and an 'IOU' that will probably have a higher value than the 2nd mortgage itself.  Now you have two partners; the Gov't and the bank! I can't verify this but I bet if you have a first and 2nd mortgage, the 'bailout' will result in you getting the least percentage of the upside in the future.
2nd Lien Provision Added to Housing Bill – Source: National Mortgage News
"Second lien holders could benefit from permitting the refinancing of struggling homeowners under a special Federal Housing Administration foreclosure rescue program contained in a massive housing bill the House is expected to pass Wednesday. A provision added during final negotiations on the bill will allow second lien holders to share in a portion of future appreciation on the property. However, they have to agree to the restructuring and refinancing of the existing first mortgages, which would extinguish any second or subordinated liens"….
This is such a mess. So much of this 'kitchen sink' bill makes no sense.
The 2nd mortgage holders not agreeing to subordinate to newly bailed out first liens was a big problem with the underwater refi bill in the first place.  But now it looks as though the banks will be forced to deal with it.  But at what cost and to whom?
The 2nd mortgage holders are not just going to wipe out a $100k 2nd mortgage for a promise of 'future appreciation' unless of course that 'future appreciation IOU' or 'negative equity warrant' has some value. Remember, many of these 2nds are still being paid on time even if the borrowers are underwater. This does not make sense. There is something missing. 
The first mortgage bailout makes sense because it allows banks to offload their riskiest loans to FHA at a much smaller haircut than they ever thought possible. Perhaps accounting standards or new account standards that will be put in place covering this will allow the banks to count these 2nd mortgage IOU's as an 'asset' based upon a schedule of future appreciation on the home in order to offset the losses.  There has to be something in there for the banks or they just won't go for it. They rather wait around and let their home equity portfolio fall loan by loan for years than take a mark on it today. 
One thing is for sure; the very fact that this 700 page bailout bill talks about 2nd mortgages, the provision was added last minute and 2nd's are one of the bank's largest risks, points to trouble.
Bonds have been telling us this whole deal is a mess for some time as Karl Denninger points out.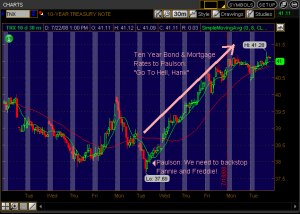 Second mortgages were mostly never sold or securitized so the losses are a direct hit.  When these loans were originally made they were 'secured' by the home but now values are down across the nation so much in such a short period of time, large percentages of these large loans are unsecured so banks can't even foreclose if borrowers miss mortgage payments. They have to treat these like credit cards using more traditional means of collection.
The following is a Fitch report released a few months ago drilling down on the bank's 2nd mortgage exposure; the very same banks at which this addition to the bill is aimed.
FITCH – BIG BANKS HOME EQUITY WOES  fitch-home-equity-woes20080314.pdf 
Below is my most recent report on the 2nd mortgage topic so you can catch up the the 2nd mortgage problem. The data is still fairly accurate other than many more are in a negative equity position meaning ultimate losses for the banks.  –Best Mr Mortgage
HOME EQUITY LOANS – A BIG BANK KILLER. S&P STOPS RATING 2ND MORTGAGE RMBS!
Posted on May 2nd, 2008 by Mr Mortgage
Fresh news out…S&P pulled a slick one. They STOPPED rating second mortgage RMBS citing "anamolous and unprecedented" borrower behavior. Here is a little piece from Bloomberg that enhances the previous story very well, calling all Home Equity loans 'junk'.
Remember, this is a near $1.3 TRILLION market with the bulk belonging to very few banks such as BofA, Wells, Chase, CITI, Countrywide, WAMU, National City, GMAC and IndyMac. I put a couple of nice quotes below. This could turn out to be a fairly large story in the making.
Home Equity Lines of Credit and loans (HELOC, HEL's, second mortgages) were the true 'Home ATM Machine' and could be a big wipe-out for the big banks. These loans were mostly used to avoid Mortgage Insurance on purchase and refinance loans over 80% LTV and went up to 100% of the house value in recent years. As a matter of fact, an appraisal or full documentation was often not required. These loans were very easy to get and primarily relied upon an electronic evaluation of the property value and credit score alone.
They are almost always a total loss when in default. This is because in many cases, the first and second mortgage add up to more than the property is worth, so the second mortgage lender does not get anything in foreclosure – it all goes to the first.  As a matter of fact, most second mortgage holders do not even bother with foreclosure proceedings any longer, choosing more traditional means of collection.
A few months back banks began to freeze consumers out of accessing the available credit on the Home Equity Lines. Countrywide kicked if off by freezing 122,000 in one swoop and WAMU follow-up shortly thereafter with a 50,000 line freeze.
Since then, most large named banks have began to freeze lines originated prior to 2008 or with original combined loan-to-values over 80% in regions where property values are substantially dropping. This just so happens to be the regions where these loans were done the most.
This hurt thousands who were not prepared. Many use these lines for highly legitimate purposes such as running a business, college tuition, a rainy-day fund or that brand new Mercedes.  Now, it looks as though the days of extracting all the cash out of your home through Home Equity Lines are gone for good.  This is probably a good thing in the long run, but just as with Jumbo money virtually vanishing overnight, these loans vanishing overnight will reduce housing affordability further extend the housing slump and perhaps cause some real damage to consumer spending.
For those of you interested in seeing the Big Banks Exposure to Home Equity Loans, this is a link to the Fitch report. It is ugly. Many of these banks have not yet begun to take write-downs on these loans. FITCH – BIG BANKS HOME EQUITY WOES  fitch-home-equity-woes20080314.pdf
PRIVATE SECTOR MORTGAGE MODIFICATIONS
I also urge that you read and watch my 'Mortgage Modification Series' featuring our sponsor, Green Credit Solutions. This is because when these bailouts go through you will get a modification and split your upside in the property with the US Gov't and banks.  Private sector loan modifications are real and a very good deal while you can still get them.
Now, the bill has passed the House and its moving on quickly…here is the summary.  This is why I have been waiving my arms and screaming about private sector loan modifications for several months -Best Mr Mortgage
The centerpiece of the legislation is a program of up to $300 billion of FHA-insured mortgages to help refinance cash-strapped borrowers into affordable loans. The program would rely on lenders voluntarily writing down the value of a distressed loan for the homeowner to qualify for the new FHA-backed loan, and in return borrowers would have to share future price appreciation with the federal government. 
Mr Mortgage onMortgage Modifications Part 2 – BEING FORWARD THINKING