Posted on July 27th, 2008 in Daily Mortgage/Housing News - The Real Story, Mr Mortgage's Personal Opinions/Research
WaMu stock price keeps falling. From $40 per share less than a year ago to $20 four months ago to $3.03 a couple of weeks back before the SEC and Treasury ganged up to prop up the markets yet again.
The SEC, FDIC, OTS, bubblevision and various other media sources are in a big finger pointing contest, blaming everything from negative press to bloggers and short sellers for WaMu's obvious struggles. I blame WaMu. There is solid evidence everywhere that WaMu is struggling. The stock price plunging aside, the massive amounts of the most toxic of loans ever created on their balance sheet is well-known and what is at the heart of their troubles.
In an attempt to put out some good news on Friday WaMu revealed they had an extra $10 billion in "capital," which said it bolstered "liquidity" to more than $50 billion this month. Liquidity refers to cash, unencumbered securities that can be sold easily, lines of credit with the FHLB and access to the Fed's discount window primarily. While "an extra $10 billion" and "$50 billion in liquidity" may sound great in the headlines the funds came from borrowings from the FHLB, the Fed's discount window and a few large repurchase agreements.
When I first read this press release from WaMu, it reminded me of the news in January 2008 when Countrywide was collapsing. The story was that Countrywide had "$50 billion in ready-liquidity" and it was being re-run every 10 minutes on bubblevision. That news popped up their stock price for a few weeks and then it all fell apart again.
It could just be me, but I don't think access to more loans qualifies as good news. The Fed only takes "good" collateral and FHLB in many cases puts blanket liens across all of their collateral so this "extra" $10 billion may have come at a hefty cost.
Keep in mind earlier this week WAMU's Treasurer Robert Williams in an interview with the New York Post said "The banks raising of more than $7bn from TPG has made borrowing from the Federal Reserve's short-term borrowing window unnecessary." Did he change his mind literally the next day as WaMu admitted that part of the extra $10 billion cushion absolutely came from Fed Short-Term borrowing window?
Many investors feel the same way and question whether the FHLB will continue to open their lines of credit to WaMu.
Look at what is still happening to WaMu Credit Default Swaps. The cost of protecting WaMu's debt soared in the past week. This speaks fairly loudly.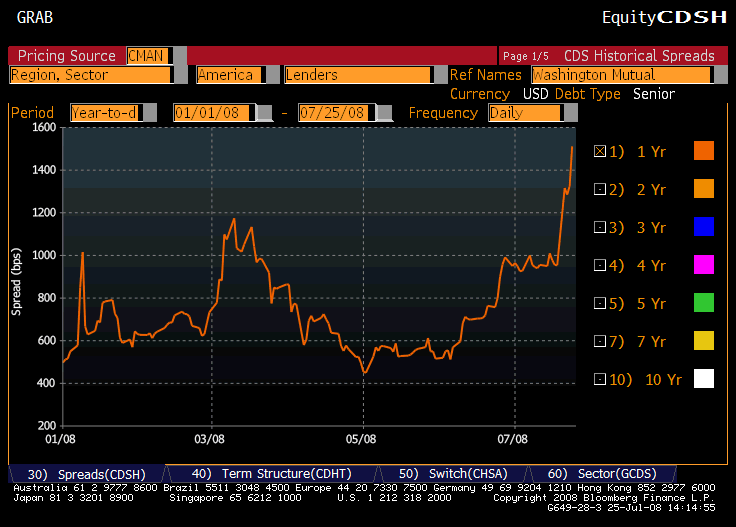 Through sources, I have learned that the San Francisco office of the FHLB is currently reviewing all of their WaMu collateral they lent against. The San Francisco office has $51.5 billion of advances outstanding to WaMu as of March 31st, which is the second largest amount to a single bank in the entire system. WaMu has admitted this is happening but won't make any comments about the FHLB's opinion on the quality and value of their massive portfolio "exotic" loans such as Pay Option ARMs, subprime fixed and ARMs, HELOC's and intermediate-term ARMs it lent against.
However, sources inside the FHLB have said they are "concerned" with the quality of their portfolio, and rightly so. It is absolutely no secret to anyone that Pay Option ARMs, HELOCs and subprime loans in bulk are worth pennies on the dollar and have not had a decent bid in well over a year.
Key to this story is next month's regularly scheduled FHLB annual audit by the Federal Housing Finance Board (FHFB), in which the FHLB has to prove that the money they lent to WaMu is backed by collateral buck for buck. If it is not, they have the right to ask for more collateral.
Their regulator pointed out that the FHLB system "has never lost money on our advances." They have achieved this by over-collateralizing their loans. But it takes a lot of over–collateralization when you are dealing with Pay Option ARMs, subprime and HELOCs worth pennies on the dollar.
Regulators at the FHFB explained that based on the credit worthiness of the bank that they could have a blanket lien on WaMu's assets. But if not and they find that their collateral is not sufficient they can ask for more collateral to cover the deficiency, which is essentially a margin call; or they can swap out the designated "weak" collateral with good collateral such as US Treasuries, Agency MBS or other investment-grade securities.
Whatever the case, $51.5 billion in loans collateralized by the most toxic of assets may result in WaMu having to put up more "assets" to keep their line in good standing. Either that or Paulson will just put out a proposal waiving the pay back of all loans to the FHLB until Jan 2009 and all is good!
In all seriousness that this story deserves, an FHLB executive said "when regulators give them word that there are liquidity concerns they go and get specific collateral, actually taking individual notes and having securities moved to the FHLB. They over-collateralize their position in case the market moves against them." They have a lot of catching up to the market to do, that's for sure.
Keep in mind, if the FHLB were to seize assets, that would likely shrink WaMu's line of credit with them, which they claim is part of the current "ready-liquidity."
Many, including yours truly, have been all over WaMu for their massive portfolio of toxic loans since late 2006 trying to raise red flags in hopes some regulatory agency would understand how ugly it could get when so much of WaMu's "assets" are tied up in the most toxic mortgage loans ever created.
In reviewing their balance sheet and loan portfolio, I do not see what the FHLB could seize to get whole. Below are two spreadsheets of WaMu's world. The first is the consolidated Balance Sheet and the second is their Loan Portfolio breakdown. I have made notes in red on each sheet. Other than their $36.668 billion in cash and cash equivalents (maybe), I don't see much of their $226.99 billion "assets" secured by real estate that can be easily sold if the FHLB were to seize them.

WaMu Consolidated Balance Sheet Detail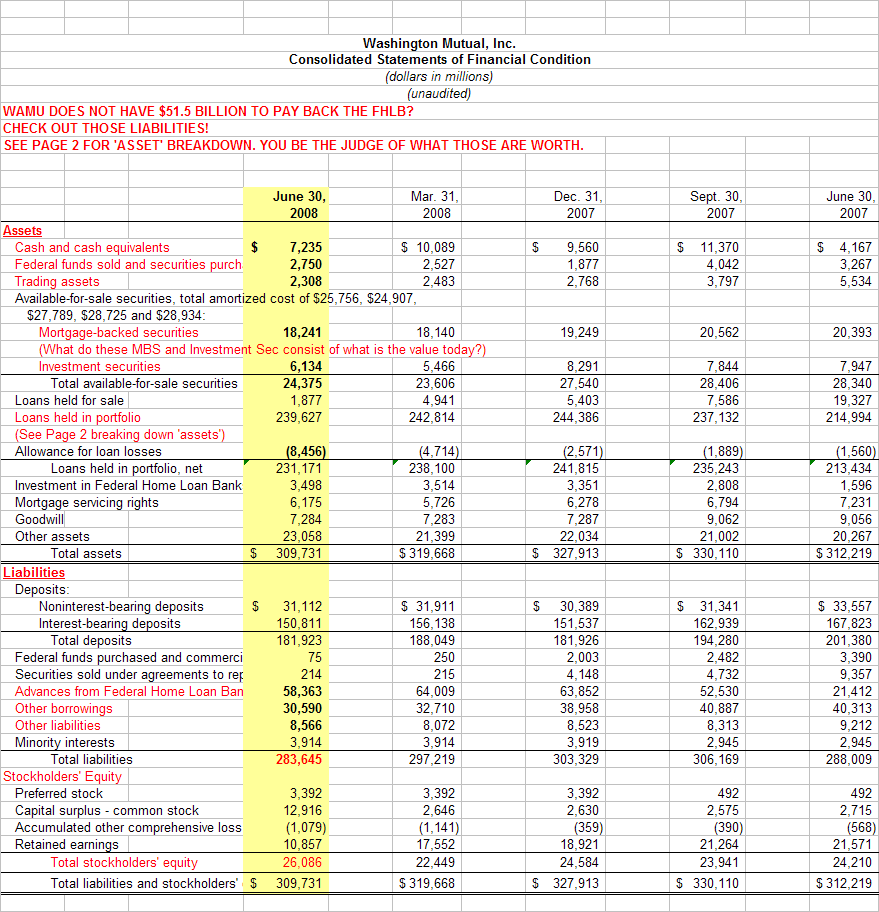 WaMu Loan Portfolio Breakdown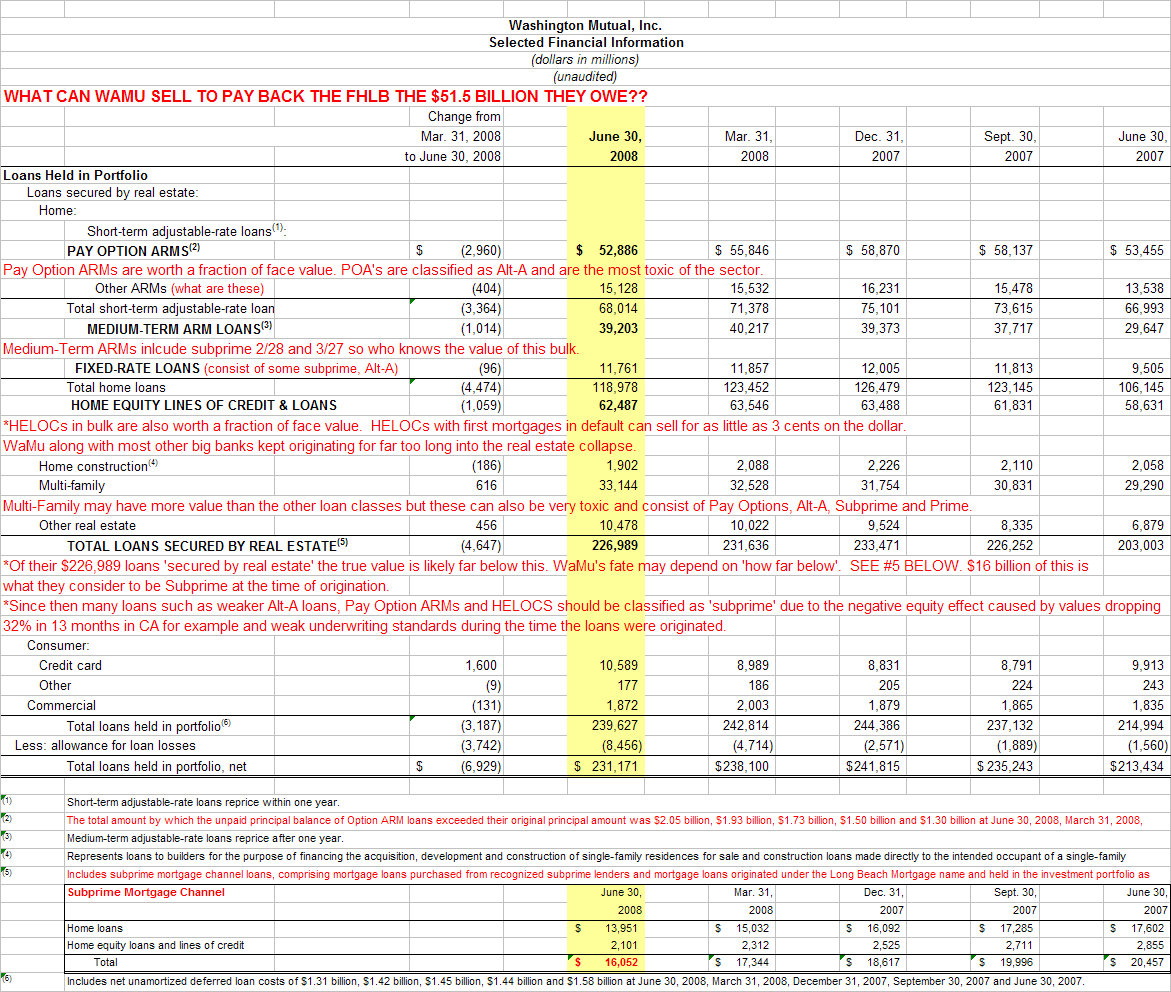 As WaMu tries to make the market feel confident in its liquidity with blanket statements of how it raises capital – persons close to CEO Kerry Killinger say, "In the last two weeks I'd characterize him as being despondent. I think he's really at a standstill not sure of his next move."
Best, Mr Mortgage
<>