Posted on July 31st, 2008 in Daily Mortgage/Housing News - The Real Story, Daily Stock Market / Economic News - The Real Story, Mr Mortgage's Personal Opinions/Research
This story is amazing. In 2007, during the time in which subprime lenders were collapsing and defaults soaring, Merrill was packaging up and selling $30 billion in rotten CDO's and selling them as fast as they could.
Everyone already knows about the Merrill 5.47 cents on the dollar CDO deal that just went down. In case you missed it her e is the link.
Now, of course, many are coming out saying 'but but but that was for the worst of the worst CDO's' and 'but but but, 2005 vintages were not as strong as recent vintages'.
That is not the truth. The truth is that Merrill's marks are very similar to National Australia Banks write-down earlier this week and other banks with similar holdings will likely have to write down their holdings similarly. Meredith Whitney said the same today in her interview on CNBC. It was great.
Now, Janet Tavakoli, CEO of Tavakoli Structured Finance is coming out and telling the truth about Merrill's deals in a report to her clients yesterday Elinor Comlay at Reuters reports.
She said that 'of the 30 CDO's Merrill sold in 2007, every one have performed poorly with either its best-rated portion cut to junk, is in technical default, is being liquidated, or is in danger of being liquidated.
'The poor performance suggests that Merrill was underwriting deals it knew or should have known were bad', Tavakoli said.
She also said "investment banks have a huge credibility problem when trying to explain that they didn't know the gun was loaded" and "it is one thing to have documents that disclose risks…it is quite another to bring deals to market that you knew or should have known were overrated and deeply troubled the day the deal closed".
I believe this entire Merrill ordeal is a watershed event and not of the same type Cramer was relentlessly pumping today.
Below is a listing of all CDO's underwritten by Merrill in 2007 and their present status as of 6/10.
This is $30 BILLION of trash in eight months. The problem her e is subprime, Alt-A and even Prime whole loans and MBS (CDO parts) were under heavy pressure, subprime lenders were failing and defaults were surging during this period. I tend to agree with Janet…they knew exactly what they were doing. .-Best Mr Mortgage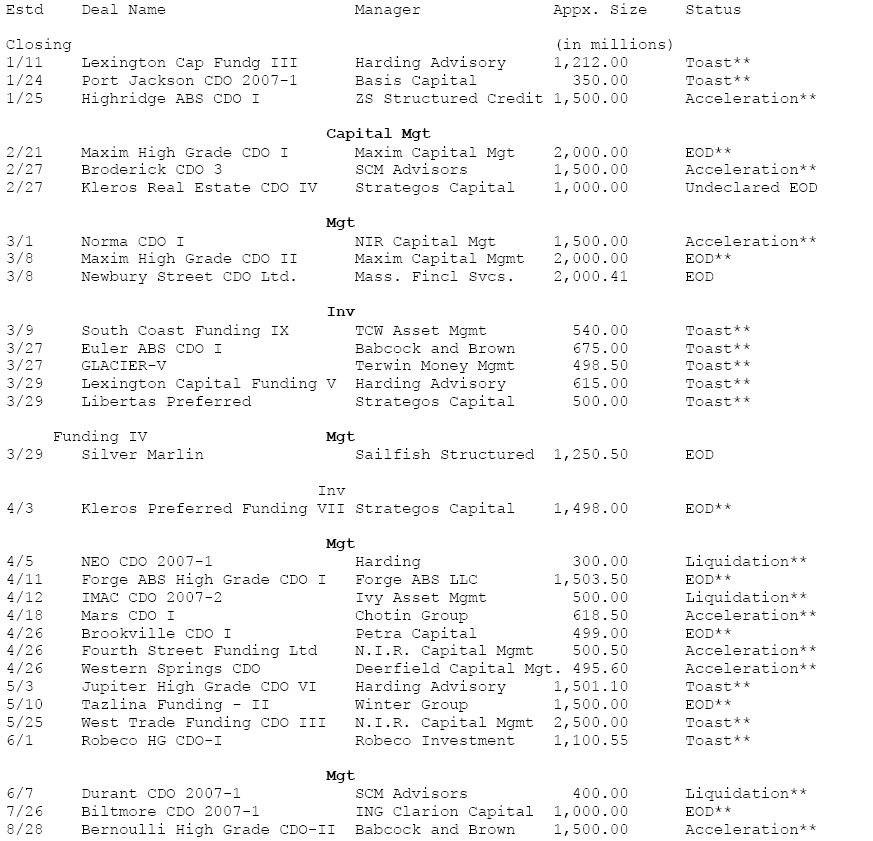 click the image to see the full page!
EOD, an event-of-default, means the CDO is in technical default. Investors or other
parties involved in the transaction may then request 'acceleration', meaning the
principal and interest becomes due and payable immediately, or liquidation, in which case
the CDO's collateral is sold.
'Toast' to CDOs for which all the originally "triple A" tranches have been downgraded below investment grade by at least one rating agency.
Source: Reuters Story by Elinor Comlay