Posted on August 4th, 2008 in Daily Mortgage/Housing News - The Real Story, Mr Mortgage's Personal Opinions/Research
Just one week after S&P placed over 1600 Alt-A RMBS on downgrade review (final downgrades likely within a few days), Moody's and Fitch get into the act by actually downgrading hundreds of Alt-A RMBS, most issued by the nations largest banks.  One of my favorite sites, Mortgage Daily, tracked all the deals.
One thing Moody's mentioned that is very concerning and worth remembering… "due to low current credit enhancement levels relative to current pool projected losses".  This brings forward a variety of questions.
Remember folks, this is how the real pain of the 'Subprime Implosion' began; with the downgrades of thousands of subprime RMBS last year. Only now are they finally acknowledging the losses. Although the raters have been pecking on Alt-A and Jumbo Prime for months, this is the first we are seeing of large scale higher-grade RMBS downgrades across the raters.  
This is so large-scale and across so many different paper types and banks, I think all three leading raters coming out in the same week is a fairly significant development. Especially given that the Alt-A universe alone dwarfs subprime. When you throw in Jumbo Prime and lower grade conventional prime all previous loss estimates can be thrown out the window. 
Everyone seems to think Merrill's subprime CDO sale marks the bottom of the write-down crisis.  I don't think so but even if it does mark the bottom of the 'subprime' CDO crisis.  Say 'hello' to Alt-a and Prime.
Keep in mind, most of the new downgrades you are seeing do not include Home Equity loans (HELOC) or RMBS, which are widely thought to be 'unratable'. As a matter of fact, on May 2nd S&P announced they have STOPPED rating them  all together citing "anomalous and unprecedented borrower behavior".  There are $1.1 to $1.3 TRILLION in second mortgages on bank's balance sheet mostly still owned by the originating banks.  But we will leave this crisis for another story.
Of the stand outs, Goldman Sachs, Bank of America, Chase, Lehman, Deutsche, Merrill, WaMu and CITI were mentioned often.  And in looking at the deals, many consist of Pay Option ARMs, which in my opinion were the most toxic loan every created. 
Judging by my data and research, I believe that 'Pay Option ARM Implosion' is upon us.  It is the next phase in the overall 'mortgage implosion' and could make the 'Subprime Implosion' look like a walk in the park. On July 17th, I posted some good info on the upcoming 'Pay Option Implosion' if you need a review on the topic. Also, directly below is a current accelerated Pay Option ARM reset schedule.  As you can see resets have just started to spike and there is a year and a half to go until the peak.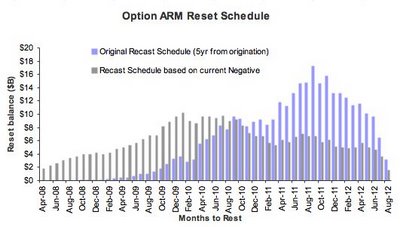 This massive sweep also consisted of Commercial mortgages but you have to check out that for yourself at Mortgage Daily. Below are the residential deals hit. Notice how some stretch back in time to 2002 and one to 1998…nothing is sacred:
Fitch Ratings downgraded classes of the following Alt-A RMBS:
First Horizon transactions issued from 2003 to 20072;

First Horizon Alternative RMBS from 2006 and 2007;

Mortgage Asset Securitization Transactions Inc. deals securitized in 2003 and 2004;

ABN AMRO deals from 2002 and 2003;

RALI issuances from 1999 through 2004;

MLMI RMBS from 2003 and 2005;

MLMI MLCC securitizations from 2003 and 2004;

WAMU transactions from 2002, 2003 and 2004;

Bear Stearns ARM Trust deals from 2006 and 2007;

CWMBS issuances from 1998 through 2004;

Sequoia Mortgage Funding Corp RMBS from 2003 and 2004;

Sequoia Mortgage Trust 10, 11 and 5;

GMAC Mortgage deals from 2005 and 2006;

HALO 2007-AR1 and 2007-AR2;

HSI Asset Loan Obligation Trust 2007-2;

IndyMac IMSC issuances from 2006 and 2007;

IndyMac MBS RAST securitizations from 2006 and 2007;

J.P. Morgan Alternative Loan Trust RMBS issued from 2005 to 2007;

Lehman Mortgage Trus transactions from 2006 and 2007;

PHHMC 2007-2, 2005-2, 2006-2, 2005-6, 2006-1 and 2006-4;

Alternative Loan Trust transactions from 2007;

American Home Mortgage Assets Trust RMBS from 2005 and 2006;

BA Mortgage issuances from 2003;

Banc of America deals from 2003 and 2004;

CitiGroup Mortgage Loan Trust transactions from 2004 through 2007;

CWALT RMBS securitized in 2005, 2006 and 2007;

CWMBS issuances from 2006;

Deutsche Alt-A Securities Mortgage Loan Trust issued in 2006 and 2007;

Banc of America ALT RMBS from 2006 and 2007;

Banc of America Funding deals from 2005 through 2007;

Banc of America Funding Corporation issuances from 2007;

CitiMortgage Alternative Loan Trust transactions from 2006 and 2007;

Merrill Lynch Mortgage Backed Securities Trust deals issued in 2007;

Prime Mortgage Trust transactions from 2006 and 2007;

RFMSI RMBS issued in 2005, 2006 and 2007;

STARM deals from 2007; and

WaMu Mortgage Pass-Through Certificates from 2007.
READ THE FOLLOWING BOLD/UNDERLINED TYPE VERY CAREFULLY:
Moody's Investors Service downgraded five certificates from two GSAMP Mortgage Loan Trust transactions issued in 2002 and 2004 due to low current credit enhancement levels relative to current pool projected losses.
Moody's also did some Alt-A downgrading due to higher-than-anticipated rates of delinquency, foreclosure, and REO in the underlying collateral relative to credit enhancement levels. Classes from the following deals were impacted:
177 tranches from 19 Deutsche Bank transactions securitized from 2005 through 2007;

108 tranches from 16 GSAA securitizations from 2005 to 2007;

89 classes from 13 Bear Stearns issuances from 2005 through 2007;

42 tranches from 14 First Horizon deals from 2005, 2006 and 2007; and

23 classes from MortgageIT Mortgage Loan Trust, series 2006-1 and 2007-1.
Finally, Moody's downgraded 55 tranches from 10 scratch-and-dent deals from the Structured Asset Securities Corporation GEL shelf because many scratch-and-dent pools originated since 2004 are exhibiting higher-than-expected rates of delinquency, foreclosure, and REO. The SASCO transactions were issued from 2005 to 2007."
Where We Are Headed and Downgrade Rationale
House prices have fallen off of a cliff in the past year, especially in CA where according to DataQuick the median price is off 32% since last summer.  This will lead to many more defaults across all borrower types due to the 'negative equity effect'.  Now in the past week all 'Big 3' raters finally took this, among other factors, into consideration and slashed ratings in a big way. (less than 1-month ago S&P affirmed the same ratings).
This is the first summer selling season without exotic loan types such as Pay Option ARMs, second mortgages to 100% CLTV, Stated income/stated assets, aggressive intermediate-term ARMs etc to drive affordability meaning this summer selling season should end up considerably weaker than expectations and previous years.
Sales, while climbing ever so slightly over the past few months, are actually flat to falling when you take out foreclosure-related sales, which made up some 42% of the entire CA home sales market last month. When stripping out foreclosure-related sales 'organic' sales for June were at a multi-decade low and not even at the pace of new foreclosures. Please see my June CA Home Sales Reportand June CA Foreclosure Report .
Subprime foreclosures have leveled off and began to decline slightly but Alt-A defaults, which lead foreclosures by 4-6 months are surging led by Pay Option ARMs. The New York Times confirmed this is happening with a front page Business Section story on the topic today.
In response to the obvious continued house price depreciation and a surge in defaults awaiting heavy Jumbo Prime and Alt-A regions once summer seasonal demand stops in Aug/Sept, the raters are jumping ahead for once and downgrading a plethora of Alt-A, Jumbo Prime and Subprime RMBS so they are not left flat-footed as with subprime.
The raters are finally understanding the mortgage loan and affordability void left when everyone other than Fannie, Freddie and Ginnie pulled out of the market and the ominous impact that negative equity has across all loan types and borrower grades. Negative equity knows no bounds.  
While factoring in the unprecedented home price deprecation seen in the past 12-months and projecting that out, they are discovering that those who purchased a home as early as 2004 are now under water and at an exponentially greater risk of default.  Even many who purchased much earlier than that and put a second mortgage on the property are in a negative equity position.  This is making their modeling systems 'TILT'.  Due to this I believe we will see even more serious ratings actions over the next 90-days stretching deep into the heart of the 'Prime' loan sector.
S&P also focuses in more closely this time around on later vintages from 06-07. This is not so great for those thinking that later vintages are 'better' such as those reporting that the Merrill CDOs sold for pennies on the dollar were 'worse' because they consisted heavily of 2005 and prior.
In my opinion, 2005 and prior are BETTER than 2006-2007 because underwriting standards were better and those that bought their homes in 2005 and prior and did not cash out since, owe closer to the current value of their home and therefore are in less of a negative equity position.
This story may only be getting started…again – Best Mr Mortgage
Other Related Mr Mortgage Reports
S&P Does Hatchet Job on Prime, Alt-A and Subprime RMBS
Mr Mortgage: June CA Home Sales Report
Mr Mortgage: June CA Foreclosure Report
Mr Mortgage: Mortgage Implosion Round 2: The Pay Option ARM