Posted on August 5th, 2008 in Daily Mortgage/Housing News - The Real Story, Mr Mortgage's Personal Opinions/Research
I have been preaching that the 'Pay Option Implosion'  will make the 'Subprime Implosion' look like a hiccup in states in which this loan program was widely used such as CA. This is because this loan program knows no socio-economic boundaries and was very heavy used in more affluent areas because of its ultimate affordability feature, negative amortization.
The Pay Option ARM (POA) is the most toxic of all loan programs with up to 80% of borrowers making the minimum monthly payment and acruing negative. Combine that with a house price crash of 32% in the past 13 months in CA and most of these borrowers owe more than their home is worth and are at an exponentially greater risk of loan default. Remember, these were once PRIME borrowers in many cases.
Part of my day job is analyzing banks and mortgage lenders using proprietary data and tracking mortgage loan defaults and REO by bank.  I can see near real-time what is happening on a bank level and it is not pretty. About four months ago I noticed the subprime defaults waning, which I have been telling all of you about ever since.  Over the past four months subprime defaults in CA are down about 25% but total Notice of Defaults have remained near historic highs of 43k per month. This is because Alt-A defaults have filled the gap.
The Alt-A universe is much larger in unit count and dollar volume than subprime so even though we are just at the beginning of the 'Alt-A Implosion', they have already filled in the subprime default void. Scarier yet, roughly 65% of all Alt-A defaults are POA's. The 'POA Implosion' is upon us.
As a matter of fact, just last week S&P, Moody's and Fitch all hit Alt-A hard with an emphasis on Pay Option ARMs. (Story Link).
Below is a few stories I have written on the topic lately.
Below is an accelerated recast schedule for the POA. You can see how the recast numbers have just begun to grow and do not peak until Dec 2009!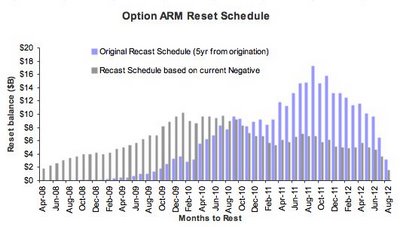 The Wall Street Journal just came out with a story about how First Federal has been hurt badly due to the POA.  It has already been a leading contributer in the take-down of American Home, IndyMac, Countrywide and arguably Bear Stearns. If not for this loan WaMu, Wachovia, Lehman, Downey Savings, Bank United and Capital One would be in much better shape than they are today.
The Journal's great story  about First Fed tells everything you need to know about this nightmare. Below is a recap. -Best Mr Mortgage
Forty percent of its borrowers became at least 30 days delinquent after the payments on their adjustable-rate mortgages were recast.

The number of foreclosed homes held by the bank doubled in the second quarter from the first quarter.

the Los Angeles bank (First Fed)  is on the front lines of what could be the next big mortgage debacle: payment option mortgages.

These loans went mainly to people with good credit, but they are likely to experience defaults that are nearly as high as — in some cases higher than — those for subprime.

Barclays Capital estimates that as many as 45% of option ARMs originated in 2006 and 2007 could wind up in default.
UBS AG, suggests that defaults on option ARMs originated in 2006 could be as high as 48%, slightly higher than its estimate for defaults on subprime loans.
FirstFed's experience highlights the challenges lenders face as option ARMs recast.
FirstFed is a relatively small lender, with just $7.2 billion in assets.
option ARMs were "a very good loan for the borrower and the bank" for more than 20 years. But that changed, she said, when investment-banking firms entered the industry and set lower lending standards, which FirstFed and others followed.

As long as interest rates were flat or falling, the minimum payment was enough to cover the interest due, making the option ARM equivalent to an interest-only loan in the early years of the mortgage.

As competition increased, lenders dropped the introductory rate on option ARMs to 1% or even lower and made more loans to borrowers who didn't fully document their income or assets.

Rather than shut its doors, FirstFed joined the crowd and business boomed.

borrowers making the minimum payment weren't covering even the interest due.

Others lenders are seeing borrowers fall behind even before recasts.

FirstFed is scrambling to modify the loans of borrowers who can't afford the higher payments.

Instead of waiting for borrowers to fall behind, the company sends borrowers letters as their loan balances swell, offering them a chance to modify their mortgages. From January through June, the company had modified 705 loans totaling $345 million.

Many borrowers took out home-equity loans with other lenders after getting an option ARM from FirstFed.

Many borrowers submitted loan applications that overstated their financial condition. "You expect a 20% fudge. You don't expect 500%."

Frederick Cannon, an analyst with Keefe, Bruyette & Woods, believes the company should be "well enough capitalized" to absorb the losses.