Posted on August 7th, 2008 in Daily Mortgage/Housing News - The Real Story, Mr Mortgage's Personal Opinions/Research
June Pending Home Sales were up!  Not really. They were at near the same level in April, took a dip in May and went back to April's level in June (see chart below).  June is one of the best sales months of the year and April is not.  June pendings only being flat from April is a very bad sign of actual future sales.  From April ro June the number should have soared. Even not-seasonally adjusted the numbers were statistically insignificant. In addition, last months numbers were revised lower.
Seasonality is so important to factor into any data that comes out. Come Sept the selling season is over, people have moved and kids are going back to school. You had better accept any reasonable offer presented in July if you plan to sell your home before the end of the season. In addition, so many are looking for a short sale and in those cases, they don't necessarily care about the price, just getting the deal done before demand dried up or they go into default or foreclosure.
Other than the above, there are a few other small problems with this data release that you have to keep in mind. 
Home sales and pending home sales rising and prices falling is a bad thing. This is because for every person who gets a 'deal', perhaps 100 people with similar homes in the area have their home value slashed, putting them into an even deeper negative equity position and at an exponentially great risk of loan default. Remember, negative equity is a leading contributor of loan default. Today's report showing prices falling tells me that a certain percentage were pushed over or ever closer to the default cliff.
When 40-50% of all sales come from the foreclosure stock, it is a bad thing because it drowns out the 'organic' sales (you and I) and does not clear organic existing inventory, which leads to loan default. (Please see my June Home Sales Report). Remember, only defaults on subprime are dropping but Alt-A and Prime defaults are climbing filling the void quickly. Pay Option ARMs are just beginning to implode and their hard-resets do not peak until Dec 2009 (Please see my most recent Option ARM report). In order to chew through inventory you have to sell more homes and have fewer new foreclosures. That is not happening to any great degree.
In a nutshell, in June this report showed pending home sales:
rising slightly month-over-month
flat from two months ago
way down year-over-year
prices continuing to crash
Remember, defaults and foreclosures have leveled off temporarily at historic highs and will likely increase once the selling season ends in Sept.
When it comes to home sales you have to look year-over-year and not month-over-month.  But even when you do look year-over-year, 2007 was such an anomaly you have to discount it sharply. This is because not only had values not come down very much from the all-time highs but there was also a lack of affordable exotic loan programs so widely used when prices were high. 
If you remember, the banks started doing away with low doc, low down payment, pay option arms, HELOCs to 100% etc in May/June/July of last year. Sales were unusually weak due to circumstances that can never repeat. Sales were so weak in 2007 due to near-peak high prices, a lack of financing and overall confusion in mortgage finance, you need to compare to 2006. From 2006 through June 2008, Pending Home Sales are down very significantly.  Take out the foreclosure resales and they have been cut in far more than half.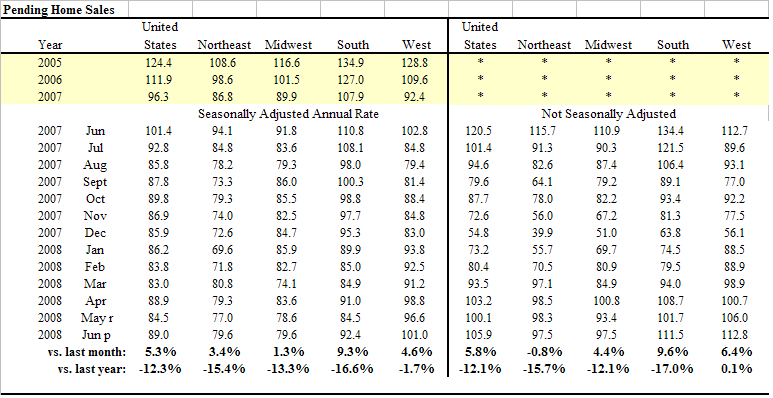 Lastly, many of the 'pendings' are short sales, which will never get approved. As a matter of fact, a study just came out of Santa Clara county, CA showing that between Sept 2007 and the end of March 2008, 2700 short sales were applied for and 77 approved. Perhaps it has gotten better since but I have no data on that. How many of today's 'pendings' will never close because the short sale approval does not go through?
In a nutshell never read the headlines. The Pending Home Sales data set is absolutely irrelevant in this marketplace with so many wild cards and should be scrubbed immediately. – Best, Mr Mortgage
Other Related Mr Mortgage Stories