Posted on August 16th, 2008 in Daily Mortgage/Housing News - The Real Story, Mr Mortgage's Personal Opinions/Research
Duck and cover.
They have been told to 'de-lever and raise capital' but it fell on deaf ears for over a year. Now, here come the 'asset' sales all at once. First, the FDIC said it will be liquidating IndyMac, then Merrill with $30 billion two weeks ago, this week Fannie says 54k homes may be bulked and now Lehman will likely sell $40 billion. To raise capital the banks burned through sovereign funds late last year, preferred buyers this year and now are selling common stock and/or 'assets'.  It's all they have left.  
In my opinion, banks stumbling all over themselves to get ahead of each other in the bulk real estate 'asset' unwind comimg right at the end of the Spring/Summer selling season is the wildcard that will deliver a cripling blow to the housing market for a long time to come. The last thing this market needs is more inventory.  
"Lehman Brothers is in talks for potential sale of its $40 billion portfolio of commercial real estate and securities The portfolio includes mortgages and mortgage-backed securities that were valued at $29.4 billion as of May 31, the article said. It also contains real estate assets worth $10.4 billion at the end of May, according to the report." Source: Reuters
"To speed up the disposition of the 54,000 foreclosed properties it owns, Fannie Mae is opening offices in California and Florida and is considering selling those properties in bulk to investors. "I do not think this is a time to be holding onto (foreclosed properties) hoping for a better day," CEO Daniel Mudd said last week."
"On July 28, 2008, Merrill Lynch agreed to sell $30.6 billion gross notional amount of U.S. super senior ABS CDOs to an affiliate of Lone Star Funds for a purchase price of $6.7 billion. At the end of the second quarter of 2008, these CDOs were carried at $11.1 billion, and in connection with this sale Merrill Lynch will record a write-down of $4.4 billion pre-tax in the third quarter of 2008″
Note: Barry Ritholtz is under the impression Merrill actually sold at 5.47 cents on the dollar when you factor in the details of the transaction.
Foreclosures keep increasing each month. Defaults are at a temporarily plateau at all-time highs, 800% greater than 2 years ago. We are entering a phase in which the defaults are moving from Subprime to Alt-A and Prime led by the Pay Option ARM, which is a subset of Alt-A. The problem is the Alt-A and Prime universes dwarf the subprime universe individually. Together they are monstrous. Pay Option's hard recast either at 5-years or when they hit their maximum allowable negative amortization (110% to 125%), which in most cases comes sooner. This is the primary reason for default and the recasts do not peak until Dec 2009. 
Below is the CA foreclosure market. The 'Foreclosure Sales' line shows that $12.5 Billion in loans or nearly 29k homes were sold at auction, a record high.  However, 97% of these went back to the bank in July due to the lack of 3rd party buyers, which is typical.  As you can see NOD's have declined slightly but Notice of Trustee Sales and actual Foreclosures are surging…I cover the reasons why NOD's may be declining slighly in my  July CA monthly Foreclosure Report. I maintain it is not a leading indicator.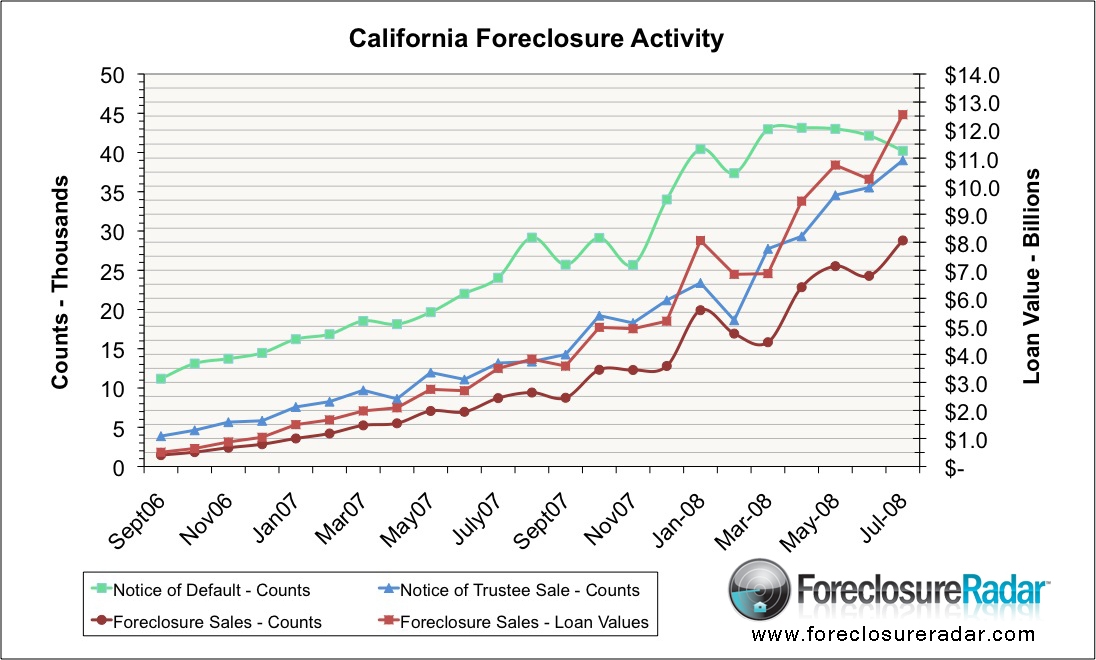 While sales have ticked up slightly over the past few months, they should have. Never discount seasonality. However, foreclosure-related sales keep ticking up as well are now a third of all sales nationally and 42% in the state of CA last month. The leaves 'organic' (you and I) sales at multi-decade lows. In addition, prices keep falling month after month due to the massive percentage of foreclosure-related sales into the market. Total sales increasing with home prices falling and foreclosures increasing at a faster pace than total sales is not a positive and does not clear inventory.
The banks 'shadow' inventory represents an overhang very few consider, as the majority is not MLS listed. This represents the real threat to housing across the nation.  The foreclosure market is the real estate market and the banks are the market makers. Never before in history has one seller (banks) controlled so much of the available inventory or has been able to price to sell now. Across the nation, neighborhoods are being marked-to-market literally overnight, leaving many in the immediate area living in a 'negative-equity' nightmare. One from which they can't escape other than with an aggressive loan modification or short sale.
The average home seller is getting squeezed out because they can't compete with the banks.  Most either owe too much to discount the homes to the bank's level or hold onto hope that their home is 'better' and refuse to accept reality. Short sales, while becoming much easier to do, can take months to get approved. Many who want, need or should be selling are sitting on the sidelines because they do not think they have options. Many don't.
The end of the Spring/Summer selling ends this month and if last year was any gauge, prices will take a hit. As early as late July/early August, many with equity who had to move and who were able to accept any offer they wished, accepted the best offer on the table knowing when seasonality ended so did their chances of selling. The banks that have virtually no price floor did the same. These homes will be the lowest priced of the season and go on record in September. Last September home prices fell 7.6% in a single month in the state of CA. I expect something similar or worse this year. Since Sept 2007, price fell a subsequent 24% through June 2008.
Where do new buyers come from?  With so many in homes unsalable because the owners owe more than the property is worth or simply stuck because they can't buy the same quality/size of home due to the highly leveraged and affordable loan programs being gone, where do the new buyers come from?
Remember, the majority buy homes when they relocate or move-up. Most can't afford to re-buy in their own city again let alone move up. People are stuck and just waiting to default. If they are in exotic loan type or highly leveraged with a second mortgage in addition to an exotic first, when either one of those loans blows up, so will the borrower.
The move-up buyer was responsible for much of the housing boom we experienced in the last decade. There are very few move-up buyers left because neither median or per capita incomes can afford the median home prices in most cities in the nation using new vintage, 10-20% down, fully documented loan types. In the past an $85k per year income could buy a $800k home with little or no money down on a stated income Pay Option ARM. Now, the same borrower can afford a $300k mortgage. Affordability through financing has been removed from the market overnight. 
Below is a chart I put together a few months back when everyone thought we had bottomed. While prices have fallen since to $328k on the median from the $354k shown, it shows that housing prices primarily rose over the past many years due to even more exotic programs coming out designed to lower monthly payments. Now, all of those are gone and we are back to 1990's and before lending standards overnight. For payments have to become affordable again prices have a long way down to go.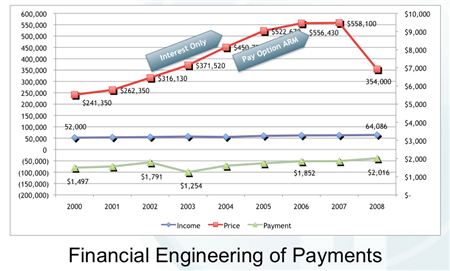 BULK ASSET SALES – THE 'QUICKENING'
This leads me full circle to the beginning of this story. With IndyMac, Merrill, Fannie and now Lehman all in bulk 'asset' dump mode, other entities with less will want to get out ahead of them. Especially those banks holding vacant REO (real estate foreclosures) wanting to get ahead Fannie Mae's 54k units. There is so much 'shadow' inventory on bank's shelves, an asset dump across banks holding large amounts of property such as WaMu, Countrywide, GMAC, Chase and IndyMac could seriously depress prices for a long time. This is a variable nobody is considering.
Bulk 'assets' go for pennies on the dollar as you saw with Merrill's CDO dump.  Therefore, the vacant REO and non-performing notes in these bulk asset sales will be sold so cheaply that vulture funds can swoop this up and get this product back into the market fast at deeply discounted prices. This brings values down immediately. The result is an immediate and swift mark-to-market in that neighborhood…as one family gets a 'great deal' 100 have more equity stripped away, 50 are thrown into an incurable negative-equity situation and 25 default as a result. This leads to even more inventory. It is a vicious cycle; a feedback loop from which there is no escape
I will post a follow-up to this story in October. -Best Mr Mortgage
OTHER MR MORTGAGE STORIES