Posted on August 21st, 2008 in Daily Mortgage/Housing News - The Real Story, Mr Mortgage's Personal Opinions/Research
**8/21…7pm pst Note – I just uploaded the updated chart below because the one earlier had an error. Please disgregard previous chart.
Next weeks 'official' existing home sales report may show a surge. Beware. This post is to show you the micro aspects and many moving parts of the market and why beneath the headlines conditions are actually worsening. Remember when reading: a) never underestimate seasonality – sales should increase in the peak summer months.  b) prices should stabalize or rise when sales increase signifcantly, not fall.  c) if defaults and foreclosures rise incrementally along with sales inventory will not clear.  d) two years ago foreclosure sales as a percentage of total sales ran about 5%, now 45%. e) bank owned properties and short-sales do count as 'organic' sales. f) organic sales getting squeezed out of the market will lead to even more loan defaults and subsequent supply.
When it comes to housing and finance, you can't read headlines.  Most are either outright lies or written by those who do not have a grasp of the topic.  You have all learned this hard lesson over the past year and a half.  In July, the CA home sales number released yesterday by DataQuick and next week's national 'existing' and 'new' home sales reports are no exception. 
For the past many months, my monthly 'CA Home Sales Report'  has (on the surface) very closely mirrored the monthly existing home sales report from NAR (due next Monday 25th). But the 'official' monthly reports do not analyze and break down the market in the manner needed for you to get thereal story. That's what I am here for.
If you are a home owner or potential buyer, knowing what lies beneath the headline number is key.  If you are a financial market participant, you know that themonthly existing and new home sales reports get the markets very hot and bothered. Perhaps this will give you a heads-up to next Monday's and Tuesday's existing and new home sales reports released by NAR and theCensus Bureau respectively.
'More Homes Sold' is once again theheadline, but in reality thepurchase and overall housing market worsened again in July and the numbers were far from jovial.  The real news is once again that:
inventory is not being absorbed due to foreclosures surging in July with only 10,712 homes  leaving the inventory pool.  This is less than last month and represents nearly 43 months supply.
Ma and Pa Homeowner (organic sale) are being squeezed out and can't compete with bank REO sales or refinance.
organic sales (total sales less foreclosure-related sales) were at theslowest pace for any July on record.
values continue to tumble pushing all homeowner's net-worth lower and many into an even deeper negative-equity position and a an exponentially greater chance of loan default.
foreclosure related sales reached a record 44.8% of total sales.
Below are some sample headlines I tossed around for this story, all of which are true, believe it or not.
Home Sales Soar in July
Slowest July Sales Pace in Decades
House Values Continue to Drop Sharply
Foreclosure Sales Carry the CA Real Estate Market
Home Owners Are Stuck…Can't Sell or Refinance
Despite what themajor media headlines say, the housing market is worsening. The facts are right here. This report makes it more evident than ever that 'the foreclosure market is now the Real Estate market and the banks are the market makers.'
Please show me a month where sales are up, foreclosures are flat or down and prices are flat or up. That would represent an improvement. Sales going up while foreclosures surge and prices crash scream loudly about where we are headed.
In order to get a handle on the inventory, true burn-rate and the market in general, you have to track and separate every piece of the market, which I have done in my 'CA Housing Market Nightmare Chart'at bottom of this page.
For example, if you back out foreclosure-related sales, which were 44.8% of total sales, the picture is especially bleak due to banks taking back 6990 more homes than sold 'organically'.  An organic sale is a transaction between two private parties and not from the foreclosure stock.
I think 'organic sales' are especially significant becuase they (resales) have always made up most of the market. New home sales and foreclosure resales have always placed a distant second and third. 
In addition, organic sales languishing is a leading indicator of mortgage loan defaults across all paper types continuing to increase in thefuture, far in advance of actual events or published data. If individualscan't sell their homes or refinance and are stuck, perhaps with an exotic/unaffordable mortgage or a negative equity position, they are at an exponentially greater risk of loan default. This of course will add further pressure to the housing market.
Last September at the end of the summer selling season, CA values began their plummet. If sales do not surge this month through the end of theyear, which is historically a slow season, foreclosure starts already in thepipeline will overrun sales and inventories will continue to grow further depressing the market.
In July, only 10,712 homes were taken out of inventory. Year-to-date only 52,147, or 7450 homes per month, have been taken out. The numbers are not good. Similar stats can be found in other foreclosure-heavy states. 
One would hope that with the number of  REO sales increasing, prices continuing to drop and being in a peak sales month that sales would have been much stronger in July. While total sales were up the market worsened from last month and organicsales fell, which makes for the slowest July since DataQuick began tracking in 1988. 
With bank'shadow inventory' hovering at record levels, sales need to double from here in order to chew through theinventory already in the'MLS Listed' channel and bring the "month's supply" figures down to the10-11 months that is thought to be accurate for CA.  This will be impossible. Remember, this is thefirst Spring/Summer selling season in five years without a full menu of "exotic/affordable" loan programs to drive affordability and interest only, Pay Option ARMs, stated income and 100%second mortgages are not coming back anytime soon.
In the month of July, the key stats are:
39,507 Total Sales;up 12.2% over June's 35,202 but still the slowest July for organic sales since DataQuick began reporting in 1988.
44.8% of Total Sales (17,699) were Foreclosure Resales; up 16.65% from last month and 1100% from two years ago.
21,808 'Organic Sales'  (Total Sales less Foreclosure Resales). This is up 1376 homes fromJuly.
$318k median price; down 3% in a single month and a whopping 34.3% from last summer. As expected long ago, prices are gravitatingtowards the most readily available financing: Agency <=$417 conforming.
40,219 new Notice-of-Defaults,which will result in 33,500 new foreclosures 4-5 months from now.
169,500k new  Notice-of-Defaults in past 4-months= 135,600k new REO from 3-7 months out as they move through the system
28,795 homes went back to the bank as REO (shadow inventory) totalling $12.55 Billion…an all-time record.
Only 10,712 units left inventory  (Total Sales less New Bank REO)
Total MLS-Listed Inventory grew  to around 320k units from approximately 275k at the beginning of the Spring/Summer selling season. 
On Monday, we get the NAR Existing Home Sales Report, which may show a similar headline…"Existing Home Sales Rise."  The markets like to get all hot and bothered over this number. But, unless you look at all thedata and take it in context, the number is deceiving.
FORECLOSURE-RELATED / BANK REO SALES
Bank REO sales are counted in themonthly Existing Home Sales official report making things appear better than they are.  When you compare year-over-year sales, last year's foreclosure resales were only about 7% of total and the year before that it was less than 5%. It is an apples-to-oranges comparison.
This shadow inventory is being sold at massive discountsto the note amount and recentcomparable sales in any given neighborhood.  Foreclosure resales pose theprimary threat to home prices across the nation, followed closely by the lack of affordable loan programs. All over the country, neighborhoods are being marked-to-market overnight due to shadow inventorybeing dumped that was never shown as part of thelisted housing stock in the first place.
You may think that as prices fall, more homes will sell and that will solve the inventory problem. That is not totally correct.  As prices fall, more homes sell but more homeowners are thrown into a negative equity position exponentially increasing their chance of loan default.  This leads to more defaults and even more Bank REO. It is a vicious cycle; a feedback loop fromwhich there is no  Negative-equity is now the leading cause of loan default.
TOTAL CA HOUSING SALES AND FORECLOSURE MARKET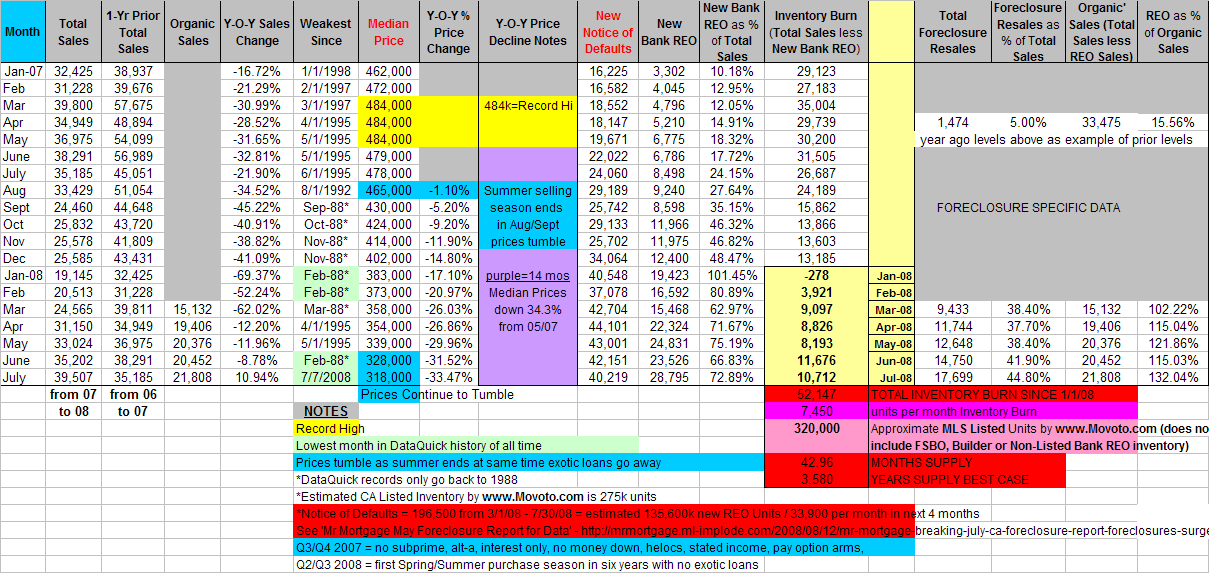 The Quickening
First, the FDIC said it would be liquidating IndyMac's REO and distressed mortgage portfolio.  Then, Merrill dumps $30 billion in 'assets' on the market. Last week both Fannie and Lehman threatened to do major liquidating. If I were the CEO of a bank holding sizeable real estate assets, I would want to get ahead of these large players and dump at any cost right now. Look out, a massive amount of inventory may be headed for the pipe.  It is the liquidating of bank owned real estate, which now makes up nearly half of all home sales, that is responsible in part for such massive price drops around the nation, especially in the bubble states, over the past year.  WIth foreclosures continuing to increase, the last thing this fragile market needs right now is more supply.
SUMMARY
In July there were 39,507 total sales, 17,699 (44.8%) of which were foreclosure resales, leaving only 21,808 organic sales. This is a multi-decade low for  July. There were 28,795 homes totaling $12.55 billion that went back to banks and 40,219 new Notices-Of-Default. July NOD's alone will bring about 32,250  additional homes that will go back to the banks as shadow inventory 4-5 months from now.
The median price dropped once again to $318k and stands 34.3% below its 2007 all-time price peak.  In the past 4 months, 169,500k Notices-Of-Default were filed, meaning 135,600k homes will go back to thebank as shadow inventory in the next 6 months. Finally, only 10,712 homes left the inventory pool based on how many homes came back to the banks vs. total sales. None of these figures includemost FSBO or home builder inventory. To cap it off, massive supply from banks may be on the way.
If sales do grow into the Winter, which would be historic and the number of foreclosure sales continues to grow as a percentage of total sales, where does this leave Joe and Jane Homeowner and the builders?  If sales do not grow and foreclosure sales continue to grow as a percentage of total sales, we remain on track for an absolute housing downside overshoot and subsequent total meltdown. -Best, Mr Mortgage
OTHER MR MORTGAGE RELATED STORIES
Record Foreclosures Sweep CA in July – Breaking News
Pending Home Sales Number NOT Positive – Explained
Pay Option ARMs – Up to 48% Default Rate! First Federal Featu
Mr Mortgage on Fannie/Freddie Massively Underestimated Risks
Mr Mortgage: May CA Home Sales Report – Conditions Worsening
Look OUt! Here Comes the Alt-A Implosion
Mr Mortgage on Mortgage Modifications – You May Qualify!
Mr Mortgage onMortgage Modifications Part 2 – BEING FORWARD THINKING