Posted on September 23rd, 2008 in Daily Mortgage/Housing News - The Real Story, Mr Mortgage's Personal Opinions/Research
$700bb will not go too far. Below is a custom chart of loan defaults from all lenders for the State of CA from Jan 2007 to present. CA represents about 40% of the total dollar volume in the nation.
As you can see defaults have leveled off in the summer at record high levels, which is not surprising due to seasonality, hope and the transition out of Subprime into other grades of paper. What you see below is primarily only the 'Subprime Implosion'. However, the numbers are still near $20bb per month. This means the numbers are closer to $40-$50bb on a national level.
As we exit the Summer season and housing demand falls (surprisingly fell sharply in Aug – See Aug CA Home Sales Report), defaults should pick back up again as values fall. Early signs indicate a severe fall going into Winter. Subprime defaults will continue for much longer given the number of new defaults we are seeing and the 50% recidivism rate amongst modified subprime loans. This is mostly due to negative equity and borrowers simply finding it cheaper to rent.
But the new waive of housing defaults will come from the Alt-A (includes Pay Options), Jumbo Prime and the Second Mortgage universes. This is also due to values being down so much in the bubble states and the negative equity effect. CA prices are off 30-60% depending in the region in the past 16-months.
Compared to the size of the Alt-A, Pay Option ARM, Second Mortgage and Jumbo Prime universes, Subprime is miniscule. With prices down so much in such a short period of time, most that bought, refinanced with cash out, or put a second mortgage on their property since 2002-03 in these 'higher' paper grades suddenly find themselves stuck in their homes without the ability to refinance or sell.
When home owners are stuck where do the buyers come from? Move-up buyers have always been the dominant force in the market. However, now that most homeowners who purchased between 2003-2007 are stuck or can't afford to re-buy the home in which they currently live given new lending guidelines and the lack of exotic loan programs, move-up buyers are all but non-existent. That leaves investors, first time home owners and renters to carry the real estate market going forward and they have always been the weakest market participants.
As with Subprimes, much of the Alt-A (especially Pay Option ARMs) and Jumbo Prime universes have severe recasts or resets typically after the first 5-10 years. With respect to these loan types, we have simply not got here yet. Most subprime loans reset after two to three years. We are seeing the exact same thing happening to these higher grade exotics as what happened to subprime when resets begin in earnest. It may not happen at such a large percentage of total loans but the universes are so much larger than Subprime it won't have to and the effects will still be far worse. Also remember, when the larger loans reset the borrowers are in a much deeper negative equity position than most of the Subprimes ever were.
I have been told recently by a Green Credit Solutions, the nation's leading mortgage modification firm with which I work closely, that 'being upside down in the property is the single worst thing on the home owner…they tell us either to get the principal balance brought down through the modification to a level where there is equity or they will walk'. This has changed in the past 4-5 months from 'better rates' being what was asked for the most.
If defaults remain at roughly $20bb per month in CA and $50bb nationally and this new $700bb bailout is suppose to clean up banks past troubles, what is left for the potential $1tt in current defaults coming over the next two years? This plan is being debated today in Washington as if mortgage and housing crisis was over and they are trying to clean up the aftermath. I am sure many there really think this is about the real estate market.
Perhaps this program will grease the wheels, everyone will begin lending again and home values will soar making it so home owners can freely sell or refinance. But given the data I see daily, I am betting against that. The problem is, anything short of physical real estate being a liquid asset once again or an across the board principal balance reduction and new terms on every loan in America, and the housing crisis remain front pages indefinitely as the negative equity feedback loop continues and more borrowers are forced into loan default each month.
Chart courtesy of my research firm, Field Check Group – Real Estate & Finance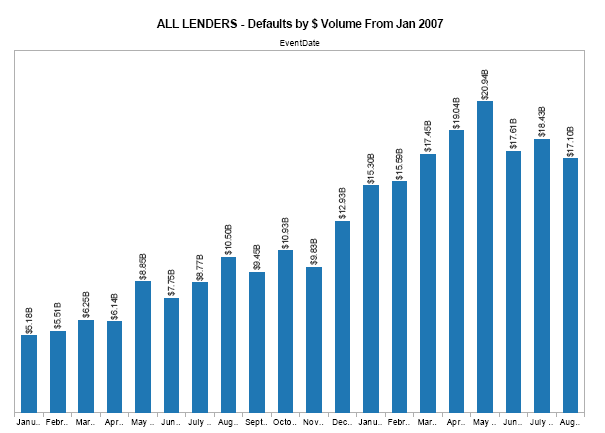 I was just sent this by a read that was pretty interesting…
Increasingly, sellers seeking short sales are encountering a new twist. Lenders are agreeing to let some short sales go through, but they want the home owners to sign a note promising to pay some or all of the balance due – debts that could burden borrowers for the rest of their lives. Moody's Economy.com estimates that about 10 million homeowners have negative equity, a condition known colloquially as being upside down or underwater. By next June, the forecasting company expects the total to rise to 12.7 million-a quarter of all homeowners who have mortgages.
 
"The first wave of foreclosures involved a lot of investors who just disappeared," says Lance Churchill of Frontline Seminars, which teaches real estate practitioners how to negotiate with lenders on short sales. "Now, homeowners with jobs and assets are underwater and want to sell. The banks want as much as they can get, today or in the future, and the owners want to get away clean."
 
If the lender does a short sale without extracting anything from the seller, everyone in the country who is upside down could try to wiggle out from under and banks will take a fresh wave of hits. But if the lender pushes too hard, the borrower will default, leaving the bank in worse shape.
 
Source: The New York Times, David Streitfeld (09/18/08)
Recent Mr Mortgage Posts