Posted on September 30th, 2008 in Daily Mortgage/Housing News - The Real Story, Mr Mortgage's Personal Opinions/Research
The Case-Shiller Index below shows exactly why all raters and banks modeling systems have been constantly incorrect. This is why values of securities are thought to be higher in value then the street is willing to pay. There is a market for mortgage securities of all kinds, just not at the level at which the owners are willing to accept.
The HPI, Home Price Index, variable is the math that has screwed up the raters and banks from day one.  Everyone who touches a mortgage loan or security has a very elaborate modeling system that requires some variables to be entered by the user. One is the Home Price Index.
Very simplistically, the lower the rate of depreciation plugged into the model, the more it says the security or loan is worth.  Multiple choices for Home Price Indexes including Case-Shiller, OFHEO and proprietary modeling that covers large geographic regions are partially responsible for the valuation mess.
For example, below shows the San Francisco MSA down 24.8% year-over-year.  It consists of 5 counties and 4.4 million people. Within the SF MSA you have Tiburon down 5% and Antioch down 70%.  This presents problems because in many cases, especially with subprime loans, loan program types are clustered and localized. For example, there are no subprime loans in Tiburon, they are all in Antioch.
When you apply the true 70% house price depreciation figure across the subprime securities, the models flip out and the next thing you know, subprime securities are worth 15 cents, which is exactly where they are trading for today. The collateral support just is not there any longer, as house prices have fallen so hard in the past year. Even Case-Shiller has it wrong…both the CA Assoc of Realtors and DataQuick agree that the CA median home price has fallen some 40%.  The distressed securities market has it right, the banks and raters models have it wrong.
This is the exact same reason why the banks will have a tough time coming from all of the higher grade mortgage paper they still hold on balance sheet, such as Prime and Jumbo Prime as it defaults.  Banks hold this paper at face value or above when in reality it is worth 50% of that or less as it defaults. Recovery rates in harder hit states like CA where most of the loans lie are from 20-50 cents on the original face value. This goes across even Prime Fannie/Freddie paper.  Remember, 'its a solvency problem, not a liquidity problem'.
The Fix…
Instead of doing away with mark-to-market they should be mandating that all banks and raters use a standardized modeling system in which Home Price indexing was done on a zip code or smaller basis. This way everybody's securities and loans are priced using the same valuation methods and metrics.  You would have instant transparency and can actually build a bustling market for these assets. I can tell you there are buyers for these assets right now, but at market value.  The reason the banks say there is no market is because they refuse to sell them at market value. -Best Mr Mortgage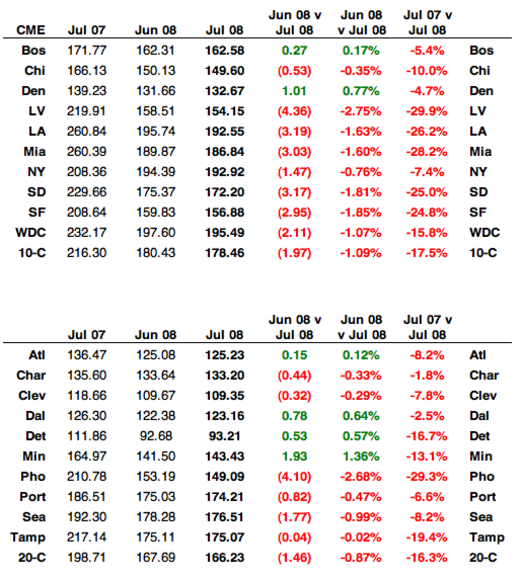 Table courest of Big Pcture Blog.
Other Related Mr Mortgage Posts