Posted on October 3rd, 2008 in Daily Mortgage/Housing News - The Real Story, Mr Mortgage's Personal Opinions/Research
**NOTE – Mortgage/Real Estate professionals…feel free to share your experiences in the comments section below.  Due to a consistent denial by Wells management, there is a belief that Wells was the safest out there through the bubble years and took very little risk. Tell us about your Wells deals…did they really do things so much safer than everyone else? From my experiences, they were one of the busiest and 'best' lenders out there during the bubble years, that's for sure. But in the mortgage business 'best' means easiest and most risky.  That like saying 'she is a great appraiser' – wink-wink.
The CEO of Wells was just on CNBC in a lengthy interview with Maria Bartaromo and he said "we never did stated income, low document, no document, interest only or subprime loans." That is not accurate. I have covered Wells to death but here are a couple of documents I think the CEO might like to see. I don't want to sound like I am coming down on Wells, but it is this type of deception that has turned a crisis of confidence into a full-blown global financial system meltdown.
The first page below is their portfolio intermediate-term ARM product guidelines from 2006 that were their top sellers from 2003-2007. Wells Fargo led the market in these. I believe they still have $75 billion in "Prime" first mortgages, including "Jumbo Prime" on their balance sheet of which much is likely this product type. However, with values down 40% to 70% across CA where Wells has the greatest exposure, these loan types are likely to perform much closer to Alt-A and Subprime vs. Prime, as they currently have them categorized.
Remember folks, throughout the bubble years Wells considered an 'A' paper or "Prime" loan to be a full-doc, 620 score, 95% combined loan to value, Jumbo 5/1 interest only with 50% debt to income ratios. This person could not get financing anywhere today or even six months ago. Much of this is on their best selling 5/1 interest only with initial 5-year rates at 4% to 5.5%.
The second page is their actual rate sheet highlighting the programs and rates as of Nov 2007…yes, they were still doing these then. They still considered these to their 'Prime" program line. These hybrid ARMs will adjust over the next 5-years to 10-years.
These loans are also anything but "Prime" — especially with values down so much and still crashing. As a consumer with half of your income going out to pay a mortgage on a home that is worth half of its value from two-years ago and that you are upside down in by 35%, what is the fastest way to de-lever? Getting rid of the home and renting for half the price enables you to keep up your lifestyle and get your balance sheet back in line overnight.
On top of Wells $75bb in "Prime" loans they have $84 billion in second mortgages, much of which are also underwater and thereby unsecured given how much values are down. This is the same stuff Bernanke was saying was worth 5 cents on the dollar in his testimony the House a few weeks back.
Lastly, if I remember correctly they had $25B in subprime still, but don't hold me to that…hey, maybe that is why they have $33 billion in Level 3 "assets" now.  Nevertheless, the third rate sheet is from their Subprime division showing loans for those with as low as 500 credit score – doh!
At my research business, Field Check Group Real Estate & Finance, we track every single loan default, foreclosure, loss severity, etc and categorize them by lender, originator etc. I can assure you that Wells has its share of loan defaults. As a matter of fact, Wachovia's CA originations are performing better at least in CA. If you are an investment fund looking for in-depth, granular research not available anywhere else, shoot me an email. Sorry guys, had to pay the bills.
Below is Wells Fargo 'Prime' ARM program guidelines from 2006. YES, they did Stated Income, interest only etc. See for yourself. VOA = Stated Income/Verification of Assets. SISA = Stated Income/Stated Assets.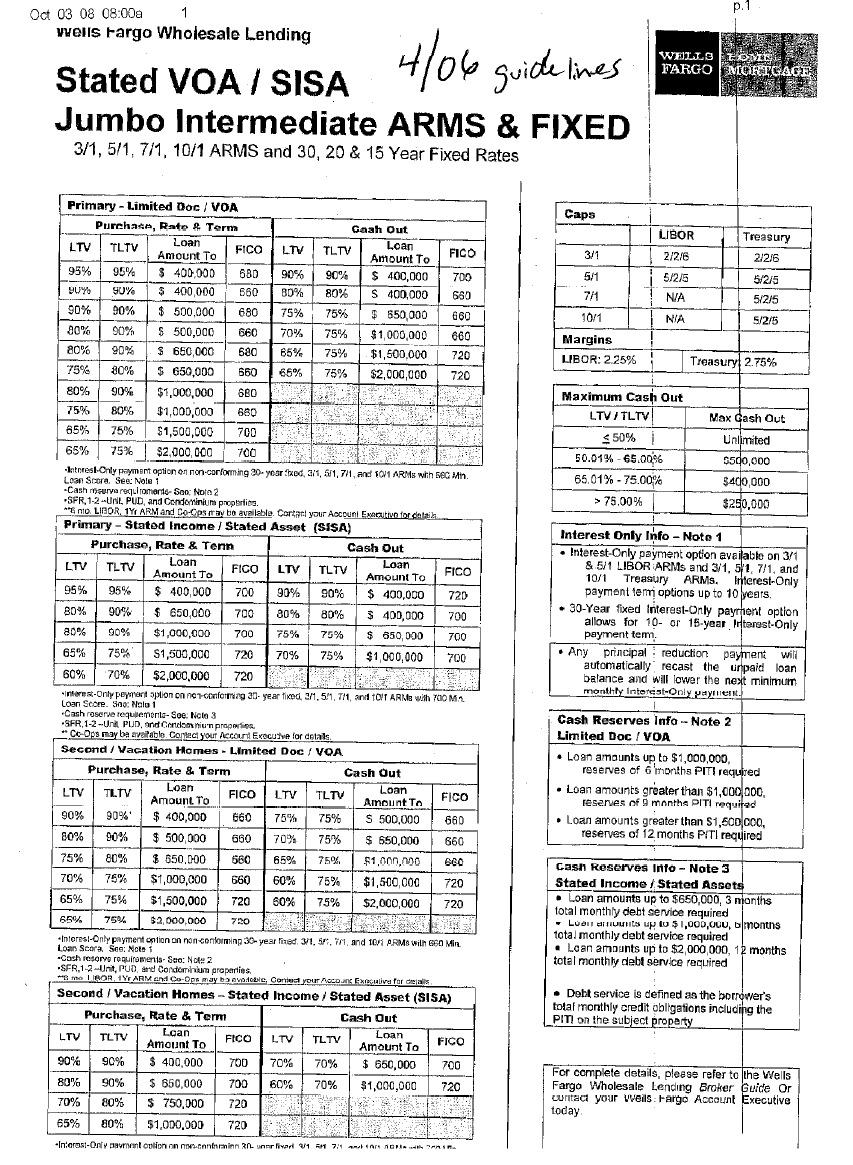 Below is form Nov 2007, showing they were still doing these aggressive Stated Income, Interest Only, No Ratio etc when there was no market to sell them into. This means they most likely have this type of portfolio mortgage product on balance sheet.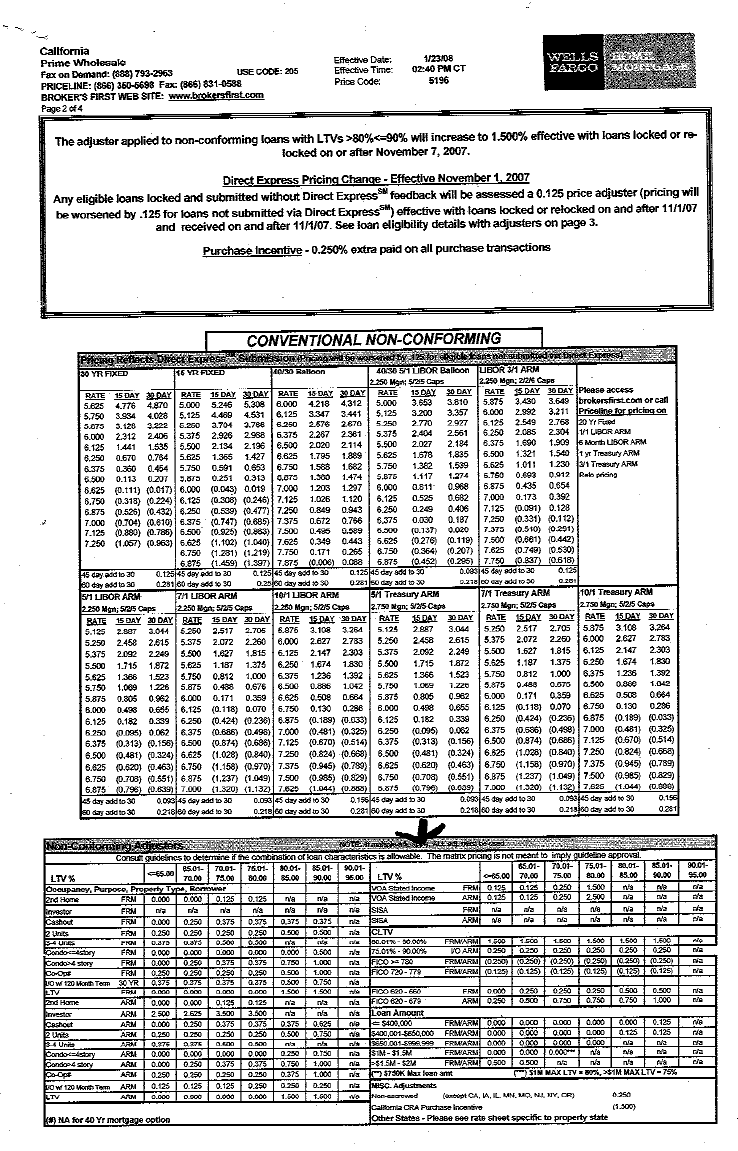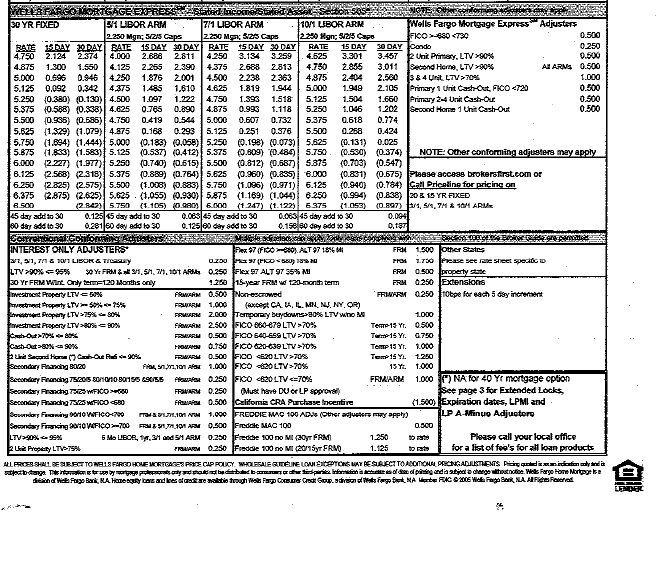 Below is Wells Fargo's SUBPRIME rate sheet from 2006 available mostly through their correspondent channel for years. It clearly shows they did loans with as low as 500 scores.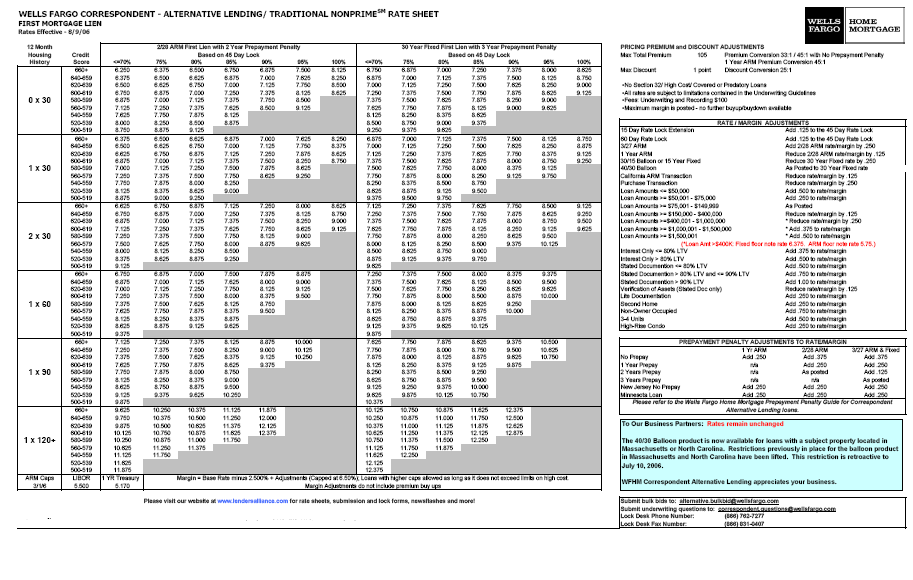 <>

Related Mr Mortgage Posts