Posted on October 13th, 2008 in Daily Mortgage/Housing News - The Real Story, Mr Mortgage's Personal Opinions/Research
Due to the new CA Law, BS 1137, Notices-of-Default (foreclosure starts) and Notices-of-Trustee Sale  (2nd stage of foreclosure) plunged in Sept.  In a nutshell, this law put a few extra steps on the banks prior to filing a NOD and NTS. Due to this, an in-depth analysis of September's CA foreclosure activity will not be provided this month.  However, you can take a look at the September charts below and a few of my previous reports (links provided below) and draw your own conclusions.  From my internal analysis, actual defaults and foreclosures remain near all-time highs and this new law just pushes out the problem a month or two.
As soon as the banks are back in full compliance and pumping out NOD's and NTS's once again, which will likely be within a few weeks, I will be able to furnish you with more data. -Best Mr Mortgage
(data brought to you courtesy of Field Check Group, Real Estate & Finance)

Notice-of-Default by Month – Note the plunge in Sept due to SB 1137. As you can see before the plunge in Sept, defaults were hanging near their all-time highs despite Subprime defaults being down 25-30% throughout CA.  This is proof-positive that the default crisis has jumped tracks to higher paper grades, which I can see clearly when I break these defaults down on my internal systems.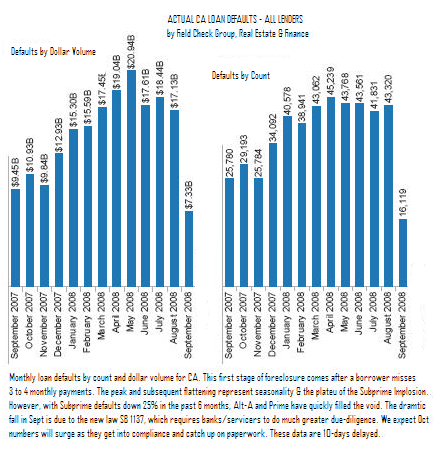 Monthly Actual Foreclosures/Bank REO – Actual foreclosures are down slightly from the peak but still near all-time highs. Never discount seasonality when reviewing this. Also cancellations are increasing, which have to be added to this figure (shown below).  Remember, 95% of all foreclosures are bought back by the foreclosing entity due to lack of 3rd party interest.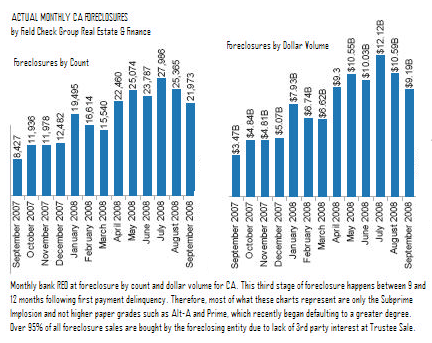 Monthly Foreclosure Cancellations– Note the increase in Cancellations below as Foreclosures above decrease. This means that despite headline foreclosures decreasing, foreclosures in the pipeline have not really moved down as much.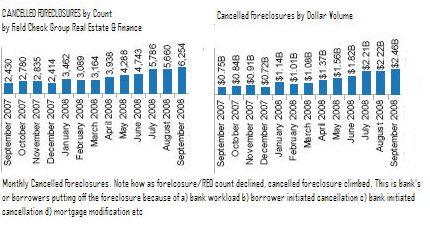 Related Mr Mortgage Posts