Posted on October 21st, 2008 in Daily Mortgage/Housing News - The Real Story, Mr Mortgage's Personal Opinions/Research
Is anything sacred anymore! Being from the mortgage industry I was well aware of US Bank's lending practices and assumed most others were as well. Apparently not.  Let me tell you how it really is.
US Bank is an interesting, misunderstood story. US Bank was a leader in alternative mortgage products focusing upon their 'portfolio' product line, which in retrospect is as 'Subprime' as it gets.  While they always had great alternative products, their big push came from 2006-2008.
What is the quality of the $73 billion in residential first and second mortgage loans and MBS they hold?
Below is an actual wholesale rate sheet from May 2008. There are several things to note when reading a) in May there was nobody to sell these to meaning they are likely still on balance sheet b) the guidelines below from May 2008, while incredibly loose, are even tighter than they were doing in months/years prior as they adjusted for the market environment as they went along like other lenders c) values have fallen in regions these product were most popular by 15-25% since May 2008 and 30% to 70% in the past 18-months making sure that even newly originated loans are underwater let alone product originated in prior years d) they have discontinued most of these products and banks do not discontinue profitable loan programs.
I will admit that arguably US Bank had better underwriting and quality controls than most other lenders.  But, how do you underwrite for a disaster so great that 750 credit score borrowers who put 20% down and got a 30-year fixed rate loan two years ago are walking away because their value is down 50% and its cheaper to rent?
Notes: Rates/programs shown below as of May 2008. Rates are high compared to what was being charged previously, as US Bank raised rates as the crisis worsened like everyone else. Yet, they were still one of the very last players offering Subprime loans. The higher rate structure below is not likely representative of the bulk of their mortgage portfolio. '1×90′ = one 90-day mortgage late for example.  US Bank allowed 50% debt-to-income ratios on most full-doc loans.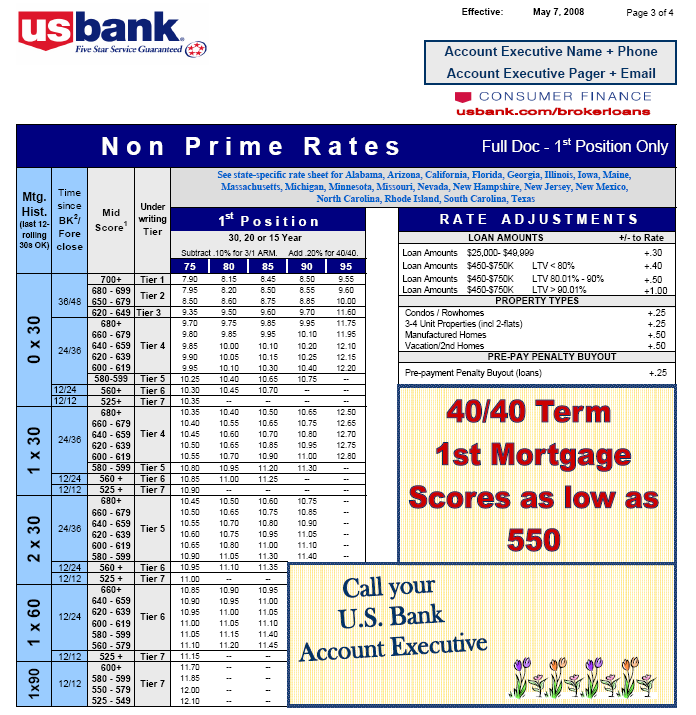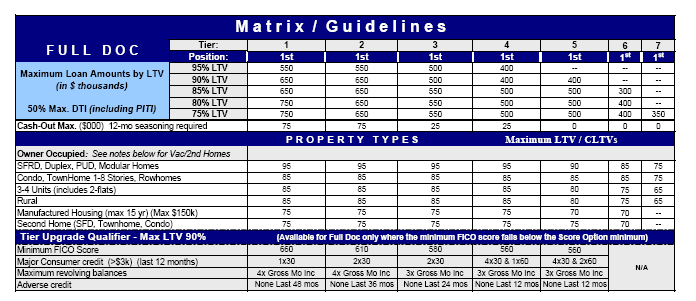 Below is what US Bank considered 'Prime'. Much of it is of course, but this 'Prime' program line can be structured in many ways, as you can see by the adjusters below. It is very easy to turn a 'Prime' loan into a 'Subprime' loan. Banks thought they were pricing in the appropriate risks, as you can see in the 'pricing adjusters' below.  But in retrospect it is obvious nobody could have known how bad conditions would have become therefore there is no way to price risk accurately. That being said, nobody accurately accounted for how far values have fallen making their loss severities much greater than provisioned for.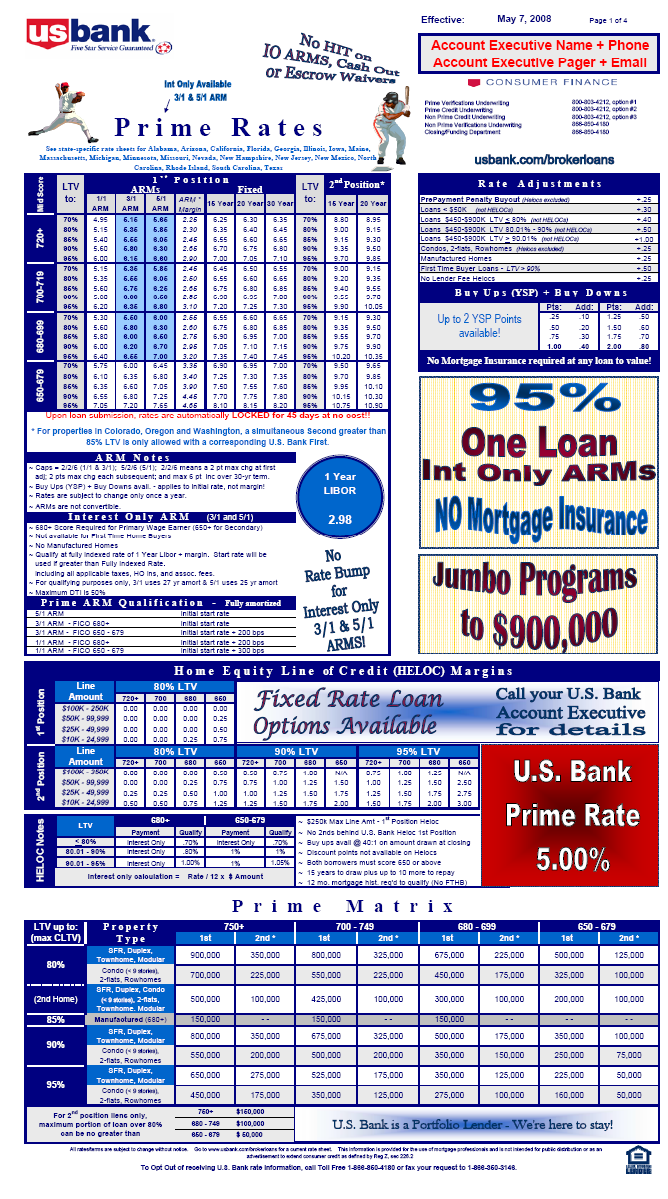 Above, note their Home Equity (HELOC) offerings. As you can see they went to 95% CLTV and I believe to 100% in the past but don't hold me to that. But even if they did only do 95% for the past several years, they have the same problem with their billions in HELOC's that Wells, WaMu, CITI and Chase have…they are underwater and essentially huge unsecurred credit cards on which they can get no recovery through forelcosure.
Lastly, 40-year loans with 550 credit score is very aggressive if you ask me…especially in May 2008!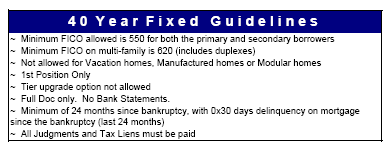 Q2 10q information – Say What?!?
Now, ask yourself how much of US Bank's $41 BILLION on balance sheet first and second mortgages are of the above varieties. They also have $32 BILLION in questionable mortgage backed securities.
The first image clearly shows here that US Bank has $23.3 Billion in firsts and $17.5 billion in seconds. The third clearly shows $32 billion in non-Treasury/Agency MBS.
IMPORTANT: See below. Loan-to-Value ratios below are determined AS OF THE DATE OF ORIGINATION. With values down 30% to 70% is states in which their more alternative loans were very popular, this could be a nightmare of negative equity.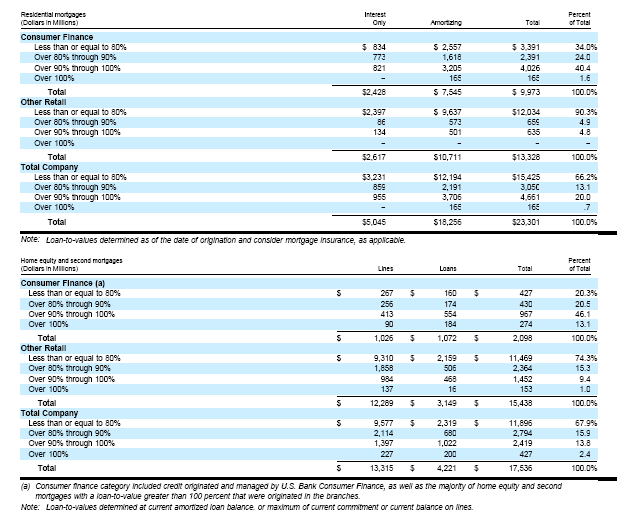 Yes, there is more. Below are what they defined as 'Subprime' at the time of origination.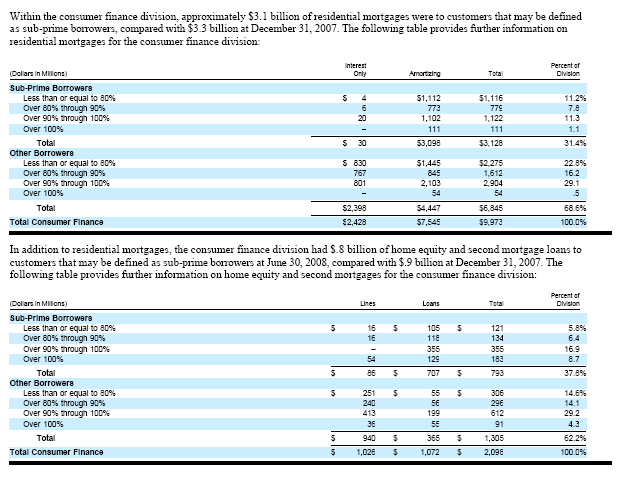 Investment Securities – Below is another $32.3 Billion in 'Mortgage Backed Securities' of which I could not find the type. Please note that they break out 'Treasury and Agencies' below so I suspect these are far lower grade such as Subprime or Alt-A but that is just speculation on my part.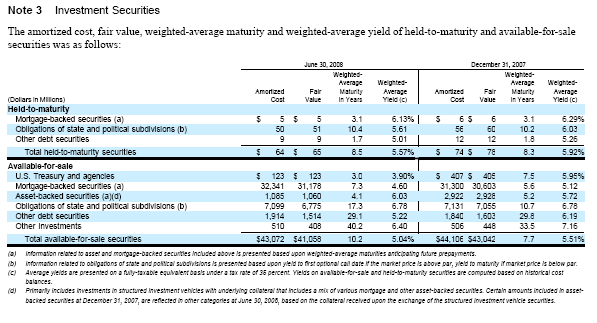 -Mortgage loan default, foreclosure and loss severity by lender, loan type region etc provided by Field Check Group, Real Estate & Finance.
More Related Mr Mortgage Stories