Posted on October 24th, 2008 in Daily Mortgage/Housing News - The Real Story, Mr Mortgage's Personal Opinions/Research
HOME SALES TUMBLED IN SEPT posting one of their largest one month drops in a year, down 9.6%. Today's NAR Existing Home Sales numbers released showing sales up 5.1% were ANNUALIZED, which is not how you have to look at this dynamic market.
Month over month reflects the truth about this market. Sept 07 was before the 'new normal', before a price crash of up to 70% in some areas and before it was apparent that we now live in a 20% down, 30-yr and 15-yr fixed mortgage world.  The past two months are highly troubling and a leading indicator of more downward pressure this Winter. Indicators in the past week of housing reports scream that the housing market is locked up at present and so are all of those home owners who want or have to sell their home.
Look below at NAR's chart. In reality, home sales FELL considerably from August, down 9.6%. Prices fell as well, putting millions of home owners into a negative equity or deeper negative equity position, exponentially increasing their likelihood of loan default.
As prices fall sales should increase not fall 10%.  As sales fall, inventories should increase not decrease. The reason inventories decreased is because as values fell, people pulled their listings realizing they will not sell for what they owe.
You can't even compare last Sept with this Sept. Remember, last Sept home sales fell the most in one month in history as lenders pulled out of the market at the same time making it a very easy benchmark to beat. See my recent report on the CA spin.  A 'new normal' began after Sept 2007, which is where meaningful analysis must begin.
So many things are different now, such as last year foreclosure related sales made up 5% of the market and now they make up 60% is some states. In addition, last summer home prices were at their peak. Peak home prices with very little financing choices does not move homes. Last year's data can't be used for meaningful analysis.
You have to look at multi-month trends and it is obvious by the chart below, home sales are falling as prices are falling. So are organic sales. When you back out foreclosure related sales, organic home sales are at multi-decade lows proving 10s of millions of Americans are underwater, stuck in their homes and unable to move.
Organic sales are critical to the health of the Real Estate market. Quickly, the entire market has become 'distressed' with over 50% of all sales in CA being from the foreclosure stock and everyone wanting a 'deal' on a foreclosure. Remember, when one person gets a 'deal', 100 in the neighborhood see their values fall. Taking it out a bit further for example, 30 get pushed into a negative equity position, 50 get pushed into an even deeper negative equity position and 25 default on their mortgage as a result. This negative feedback loop is what is mostly responsible for the rapid surge in loan defaults among higher paper grades. -Best Mr Mortgage
Data below from NAR site: http://www.realtor.org/research/research/ehsdata
Note: See NOT SEASONALLY ADJUSTED in the right box. ALL areas lower and nationally lower by nearly 10%!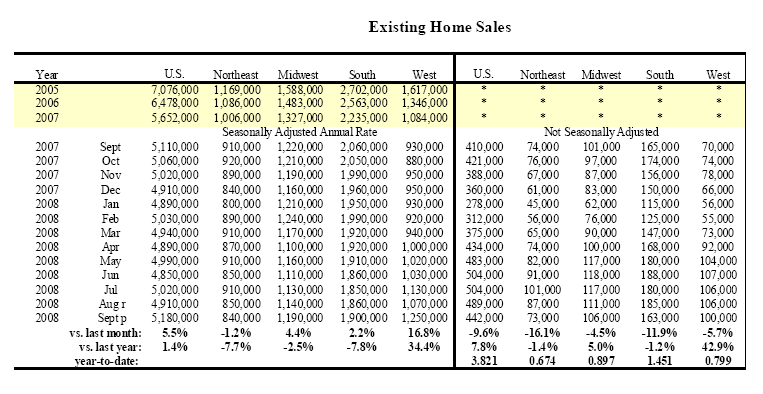 Archive For Mr Mortgage's