Posted on October 27th, 2008 in Daily Mortgage/Housing News - The Real Story, Mr Mortgage's Personal Opinions/Research
It is just not what it seems. It never is. This report tells me nothing but the housing market continues down its road worse. Not reporting the facts accurately is what turned a 'crisis of confidence' into a full scale global financial system meltdown.
Sept New Home Sales were just released and as with last Friday's Existing Home Sales, the pundits are cheering this as a sign that 'housing is bottoming'.  Please see my Mr Mortgage: NO SPIN Sept Existing Home Sales Report. for the truth on last Friday's existing home sales report.
When you break out 'NOT seasonally adjusted' (actual sales) new home sales decreased just like existing sales.  Inventories ticked UP from 8.9 months to 9.1 months. This is just the opposite of what's being reported.
When you factor in that the Relative Standard Error in this report can reach as high as 24%, the data are highly unreliable and can't be viewed as bullish for new home sales. Hey, we are probably closer to a bottom but that's only because the bottom will come in the future and every month we get closer to that point in the future.
There have been worse New Home Sales reports than this one, but not many.  There is definitely nothing here that should make the media cheer the way they are today.
FHA Down Payment Assistance Taken Away as of Oct 1…DPA = 2/3 of All Loans

Please note that all of the FHA Down Payment Assistance was taken away at the end of Sept. Due to this there was a marketing "rush" to sell houses at effective 100% FHA financing prior to Oct 1, so this likely bolstering the September numbers considerably.  TWO-THIRDs of all FHA purchases are DPA loans.
New Home Sales Only 7.5% of Market
The new home sales market is so tiny compared to the existing market and even the foreclosure market, a few percentage up or down means virtually nothing in the grand scheme of things. For example, in Sept 442k existing homes were sold nationally and only 36k new homes sold.
Values Continue to Collapse Leading to Loan Default
While total sales did not plummet in Sept like existing home sales, values on all real estate is continuing to collapse, new homes being no exception. This is being cheered as a 'necessary step in the market clearing'. While I agree, the pain that is yet to be felt through the revaluation and de-leveraging in residential real estate will be immense.
The chart below sure looks like new homes have been a poor investment putting folks deeply underwater. And this does not include those who took cash out or added a HELOC after the fact.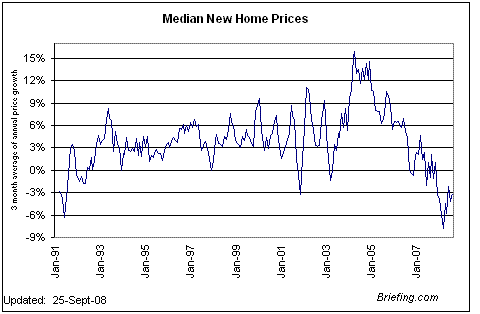 Remember, home 'sales' are very small in number compared to the number of home owners who already own. House price capitulation felt by those that already own, will lead to surging defaults and foreclosures. Home price depreciation is the leading cause of loan default among paper grades above Subprime, such as Alt-A, Pay Option, Jumbo Prime and Prime. Home price capitulation is what is mostly responsible for the rapid surge in loan defaults among higher paper grades we are seeing today.
In addition, it also makes all those loans and MBS sitting on balance sheets worth substantially less due to less collateral support and greater likelihood of loan default. While falling prices will happen and has to happen, until we bottom and stay there for years while the market clears, it will cause substantial damage to home and mortgage owners on the way down.-Best, Mr Mortgage
Let's break down today's report for a little closer look and comparison:
2006:  1.051 million new homes sold
2007:  776k new homes sold
2007 year-to-date through Sept: 629k
2008 year-to-date through Sept: 402k
2008 anticipated: 464k new homes sold. (down 36.1% from Sept 2007 ytd)
Now, let's look at actual home sales in Sept 2008:
Total US: 36k new homes sold. That's it. Only 36k homes.  Two-thirds have not had foundations poured or are in the construction process.  There were 442k existing homes sold last month. New homes pale in comparison. Also, remember that over 75k entered the foreclosure process by getting a notice-of-default and that includes CA, which dropped by 50% in Sept due to SB 1137, which essentially put a 30-day moratorium on foreclosure notices.
Northeast: 2k new homes sold
Mid-west: 5k new homes sold
South: 21k new homes sold
West: 8k new home sold
Click HERE for a link to the actual Government data.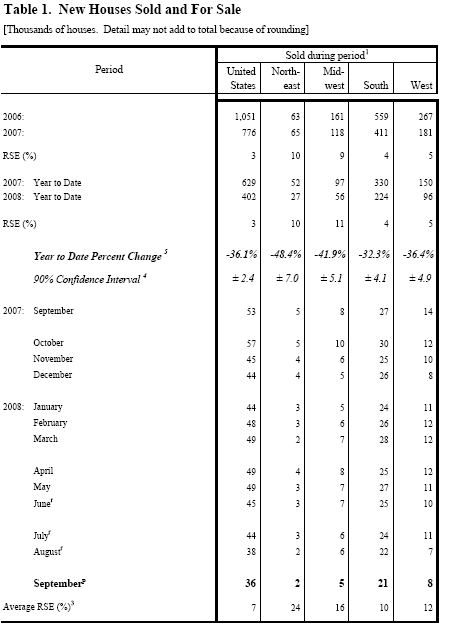 I am no chart reader, but below looks rather scary.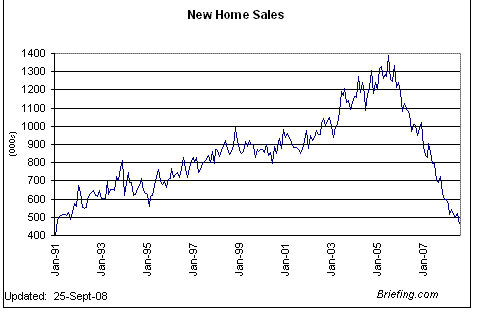 Actually the above chart looks just like the one below through July 2008.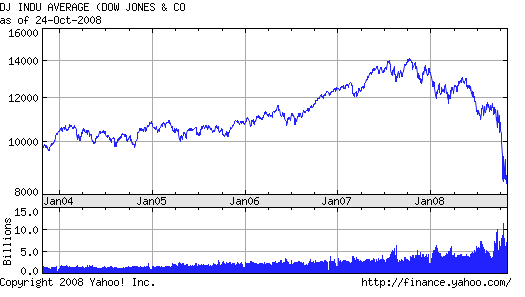 More Mr Mortgage