Posted on October 27th, 2008 in Daily Mortgage/Housing News - The Real Story, Mr Mortgage's Personal Opinions/Research
You don't hear much about the ABX and CMBX indices any longer. The last ruckus over these came about six months ago when the spinners tried to tell us that they really did not portray the true value of the market bla bla bla. Well, it looks as though Markit was accurate after all.
To be honest, I haven't looked at the ABX and CMBX in about a month.  I used to post ABX prices regularly because they seemed to be a leading indicator to credit market disruptions. So I went back and reviewed this weekend in order to see what impact that the $700bb TARP bailout had on the values.
One would assume that if Treasury was really planing on overpaying for distressed assets, then perhaps the ABX and CMBC would have gotten a bounce. They have bounced many times over the past year and a half for much less.
What I found was what I would expect…that ABX indices are at all time lows and CMBX spreads all all-time wide levels. This surely does not look like a market about to be bought. This looks like a market continuing its downward trajectory as all asset are being repriced lower during the deleverging process. -Best, Mr Mortgage
ABX AAA rated Second Half 2007 below. They are at all-time lows at just 41 cents.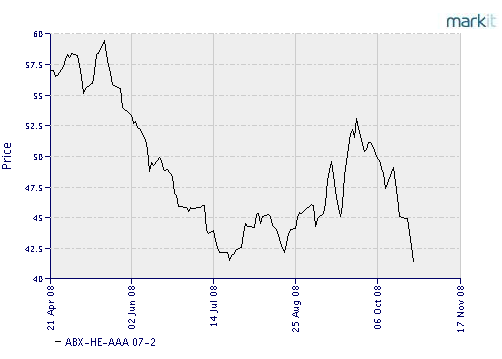 ABX BBB rated Second Half 2007 below. They are near all-time lows at just 5.5 cents.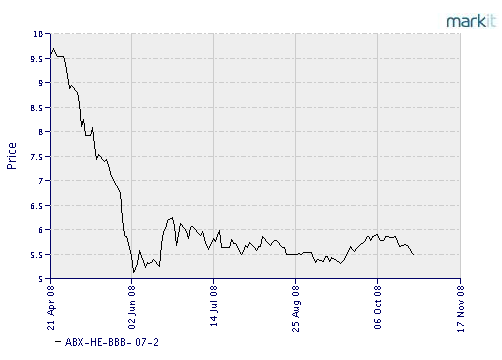 CMBX A rated, at all time wide levels at 700. This is one of the highest grades.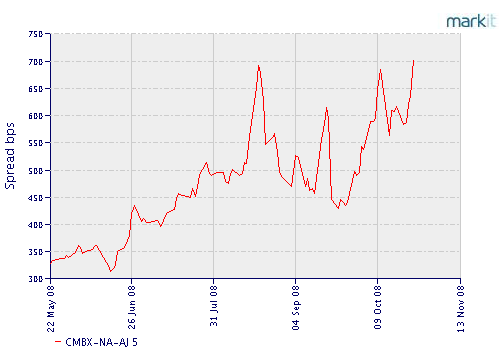 CMBX BB rated, at all time wide levels at 3405. This is the lowest rated.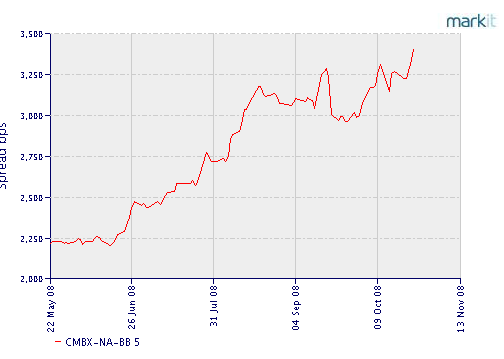 More Mr Mortgage