Posted on October 29th, 2008 in Daily Mortgage/Housing News - The Real Story, Mr Mortgage's Personal Opinions/Research
The Wall St Journal ran a very thorough yet backward looking story on the state of CA real estate. They focus on Los Banos, a small farming community about 80 miles South of Silicon valley, which is another 'subprime central'.
One important thing they leave out is the fact this is beginning to happen everywhere not just Los Banos and the Subprime epicenters. In all areas Notices-of-Default, the first stage to foreclosure are surging. This will lead to similar foreclosure epidemics in higher priced areas.
Values in the state have plummeted everywhere and you can use the 'Subprime Implosion' road map as a guide to what will happen to higher paper grades such as Pay Option ARMs, broader Alt-A, Jumbo Prime and finally Prime conventional sue to the negative equity effect and/or the exotic nature of said loans.
Remember, what happened to Subprime borrowers with respect to payment adjustments is not unique to Subprime. Its just that Subprime ARM were mostly structured with 2-year teaser rate periods. The higher paper grades were structured longer such as 5-years.
As a matter of fact the most popular Alt-A, Jumbo Prime and Prime loan program type in CA from 2003 through 2005 was the 5/1 interest only that allows an interest only period for 5-years then adjusts to a fully amortized loan in most cases according to LIBOR, CMT or 1-yr Treasury yield plus a margin. Do the math…2003 to 2005 + 5-years = heavy adjustments coming from 2008 – 2010.
Even though the payments won't double on these loans like on Subprime, any payment increase when the value of your home is down 50%, you are underwater 30% and paying 60% of your gross income on debt is rubbing salt on the wound and grounds for many to walk.
Another very popular 5-year program was the now infamous Pay Option ARM, which has destroyed nearly every bank holding them. Below is their adjustment time.  We can still get ahead of the major Pay Option implosion with proactive loan modifications but the banks just don't want to play that way yet. They rather wait until the borrower defaults and then deal with it.
The title of the Journal's story is also misleading, sales are not improving they are getting worse. Below are my Sept existing and new home sales reports.
Mr Mortgage Sept Home Sales reports:
-Best, Mr Mortgage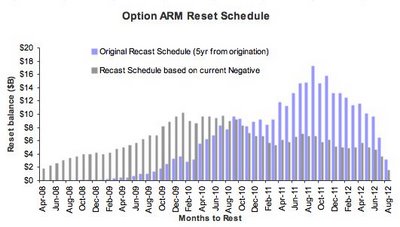 Click on the link below to read the full story. It does a great job in detailing the Subprime mess and outlining what will happen in other areas and higher paper grades.

CA Home Sales Revive, But Not Without Emmense Pain
The Wall Street Journal
By Michael Corkery and Johnathan Karp – Oct 22, 2008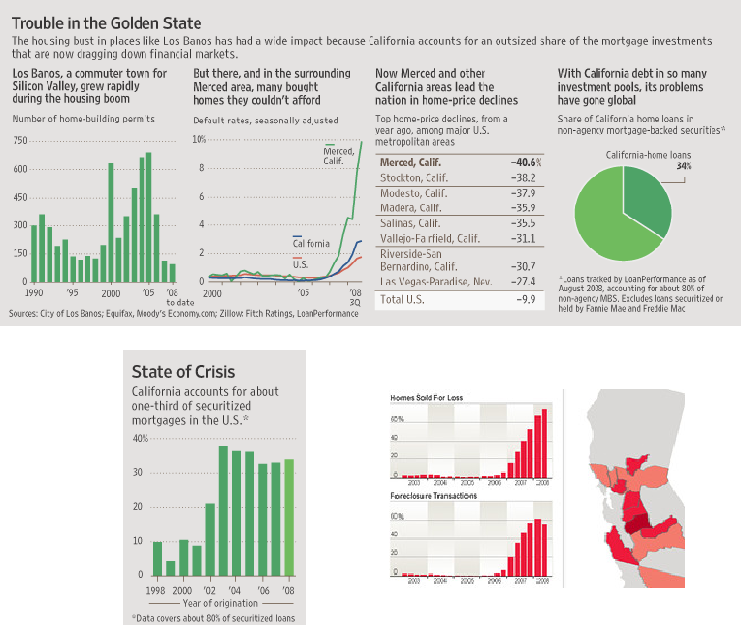 Other Mr Mortgage Stories