Posted on October 30th, 2008 in Daily Mortgage/Housing News - The Real Story, Mr Mortgage's Personal Opinions/Research
I have been preaching for a long time that with values down so much across the nation, as much as 70% in areas of the more populated 'bubble states', that Subprime was only the beginning.  The mortgage meltdown is definitively spreading into higher paper grades.
I maintain that the original buckets of Subprime, Alt-A, Jumbo Prime and Prime Conforming don't have much relevance any longer and they are just all 'loans'.  This is because with such a large percentage of  higher rated programs containing interest only, limited documentation and high CLTV features, these borrowers will behave much differently than thought with such negative market influences.
Even full doc, 20% down, 30-year fixed borrowers behave badly when upside down 50% in their home and half of their monthly gross income going out each month to debt. We see large scale downgrades of Alt-A, Jumbo Prime and HELOCs consistently now, which proves the point. Remember, a 95% CLTV, full-doc, interest only, 5/1 ARM, qualifying at interest only payments with a 50% debt-to-income ratio was and still is considered 'Prime' at Wells Fargo for example.
What 'they' preached for a year with respect to 'Subprime being so small it can't cause a major financial system disruption' is true – it is very small yet it set off a cascade of events that brought the worlds financial system to its knees.  Defaults do not have to jump much in the vast Alt-A, Jumbo Prime and Prime Conforming universes to significantly accelerate foreclosures going forward.
Hope Now recently released their summary report of how the program was working and what they reported corresponds with what my research has been tracking for months. That is the higher paper grade, higher leveraged borrower is in trouble and in great need of help. Unless something is done to re-underwrite every loan made between 2003 and 2007 and reduce their principal balance to what these people actually earn using 28/36 debt-to-income ratios and a market-rate 30-year fixed, the default and foreclosure crisis will continue to swim upstream into 10s of millions of home owners who nobody ever thought would have a problem.
Even though the Hope Now loan category buckets are likely all jacked-up relying solely on credit score as an indicator to whether they are Prime or Subprime borrowers, this chart screams trouble. Across three of four categories below, Prime jumped higher as a percentage than Subprime.  The 'Modification' category was the only exception because banks will likely jam solid borrowers harder for a Repayment or Workout Plan vs. an actual Modification. This is a mistake, but most everything done to try and prevent this crisis from spreading has been since day one.  -Best, Mr Mortgage
Note: I called Hope Now about 3 months ago as a test to what type of help they offered. I told them I was salaried, was paying 50% of my income out in debt, could not save anything and my house had dropped far below what I owe. I said I was considering walking. They said that would be a bad idea and to try the following for a while to see if it gets better: 1) regulate heating and A/C in the home more carefully in order to save on energy prices 2) take public transportation whenever possible 3) make a budget 4) take shorter showers 5) take a bagged lunch to work among others. BORROWER 'WORKED OUT'!
Source: Hope Now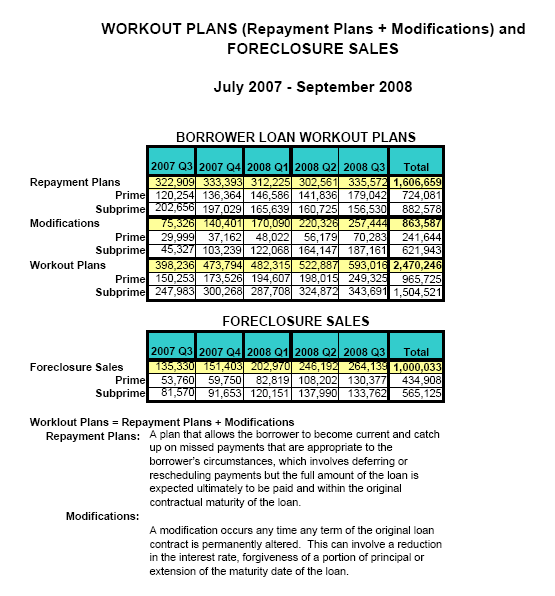 Other Recent Mr Mortgage Reports