Posted on November 4th, 2008 in Daily Mortgage/Housing News - The Real Story, Mr Mortgage's Personal Opinions/Research
Below is a chart I threw together that shows the banks and their lapse of mortgage loan quality control standards when trying to drive origination volume in 2007 and early 2008.
This is another perfect example of why banks need to get ahead of the coming Alt-A, Jumbo Prime and Prime Conventional implosions and suddenly are all endorsing massive mortgage modification initiatives. Remember, when much of what is represented below was originated, Subprime was already gone or significantly winding down therefore much of this increase is from higher paper grades.  This also explains why the Subprime lenders such as Fremont and HR Block saw EPD's drop substantially.
Below represents the percentage change in early payment defaults (EPD) from 2007 to 2008.  For this report I called an EPD any first mortgage loan originated by the respective lender that had a notice-of-default issued within the 12-months following origination.
Other than Chase, which I find interesting, one of the most interesting aspects of this chart is how Wells Fargo's originated loans are performing worse than Wachovia's. This is because the Pay Option ARM implosion (Wach specialized in Pay Options) has not hit in earnest while Wells Fargo's more Alt-A style lending (5-year, interest only, high-CLTV, stated income) is already seeing default damage.  The same goes for their percentage of overall loan defaults as depicted in figure two below. Last month I posted a lot of info on Wells Fargo – Click HERE for story.
This begs the question, 'did Wells buy wahovia to save themselves?' – Best, Mr Mortgage
Percentage change over 2007 in Early Payment Defaults (month 1-12)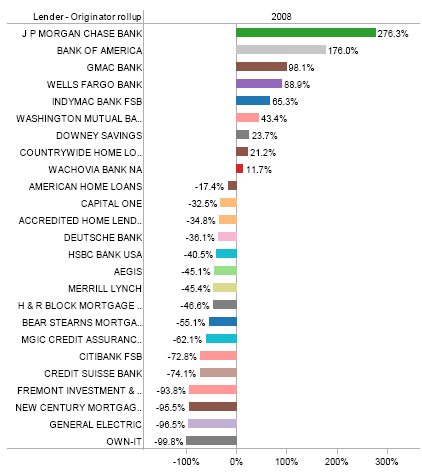 Below is a post I put up last week along the same lines:
Posted on October 31st, 2008 in Daily Mortgage/Housing News – The Real Story, Mr Mortgage's Personal Opinions/Research | Edit
As part of my day job at Field Check Group, Real Estate & Finance we analyze the entire housing & mortgage universe including extremely granular mortgage default and foreclosure data by lender, not available to most.
While Chase's mortgage modification announcement today makes a whole lot of sense from the stand point of ridding themselves of WaMu's toxic Pay Option and Subprime loans at a better price than bulking them to the highest bidder, Chase has some problems with their own past loan originations as well.
JP Morgan to Modify Mortgages to Limit Foreclosures
By Elizabeth Hester
Oct. 31 (Bloomberg) — JPMorgan Chase & Co., the largest U.S. bank by market value, plans to modify terms on $110 billion of mortgages and forgo foreclosure proceedings on all real-estate loans while the changes are implemented in the next 90 days.
The offer extends to customers of Washington Mutual Inc., the savings and loan JPMorgan agreed to buy last month, the New York-based bank said today in a statement. Loan modifications may include interest-rate or principal reductions. The bank said it will establish 24 regional counseling centers to provide face-to- face help in areas with high delinquency rates.
"We felt it is our responsibility to provide additional help to homeowners during these challenging times," said Charlie Scharf, chief executive officer of retail financial services at JPMorgan Chase. "We will work with families who want to save their homes but are struggling to make their payments."
Remember, a few months back when Jamie Dimon said that they got aggressive in the mortgage market pushing products like Jumbo Prime especially hard in 2007? Well, below show the extent at which their past loan originations are turning into loan defaults.
This chart below represents the percentage increase in 2008 vs. 2007 in mortgage loan Notice-of-Defaults that each company originated. Granted, some of these loans may have been sold, securitized etc, but they also kept a large number of originations which are likely performing at the same rate.  This chart shows which firms had serious mortgage related risk management lapses. This does not include second mortgages of which Chase is also loaded to the gills.
Please note this chart makes no reference to dollar volume, as that information is only available to clients. Sorry. However, I do feel that the percentage change year-over-year is equally important when evaluating potential risk. -Best, Mr Mortgage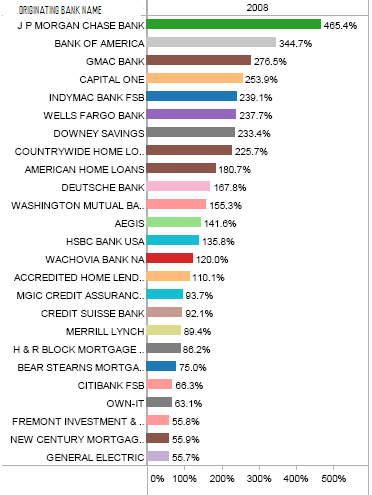 More Mr Mortgage