Posted on November 11th, 2008 in Daily Mortgage/Housing News - The Real Story, Mr Mortgage's Personal Opinions/Research
This news has been a long time coming and is very damaging to the housing market.  This announcement from Wells is the first I have seen but others should follow suit this week.
I have done numerous reports on the mortgage insurers and how it does not matter what Fannie and Freddie do with respect to loan-to-value, its all about what the mortgage insurers will do. See stories below for how we got here.
In CA (other states as well) due to mortgage insurer 'challenges', the MINIMUM credit score required to do any loan (Fannie/Freddie included) over 80% is now 720 from the previous 620.  I am not sure the percentage of folks with over 720 scores vs. under but regardless, this will take a massive number of people out of the market.
Credit scores are dropping across all demographics very quickly due to the banks chopping revolving (credit card) and home equity loan credit limits dramatically in the past few months.  In most cases, banks are dropping the credit limits to right above what people owe. This hurts credit scores badly because a large portion of your score is based upon total credit available vs. used. For example, if you have a $1000 credit limit and you use $299, it is under 30% which is optimal. The next tier is 50%. However, if you have a balance of $501 through $999, your will can be hit hard for each revolving line you have in this condition. So, by banks chopping lines they are essentially hurting the consumers ability to borrow just as credit guidelines are tightening. This is as bad as it gets.
Additionally, putting 20% down is a very rare thing especially in this housing market. Over 50% of all sales came from the foreclosure stock and move-up buyers are not driving force – it is first-time home buyers, renters and investors.  While investors usually have to put down at least 20%, first-time buyers and renters can put down less through Fannie and Freddie. Until recently, in CA you could purchase a home with 5% down under 720 score.
This just made affordability drop in a big way. To compensate, house values have to fall even further. This will also shuffle folks over to FHA for loans over 80% where rates are higher and where much fewer programs are available, which I am sure is part of the master plan.
Ultimately, this will be great for housing in the future, as home owners will be nowhere near as leveraged in their home. But between now and the years it takes to get to 'ultimately', you must be aware of how damaging things like this can be to housing. -Best, Mr Mortgage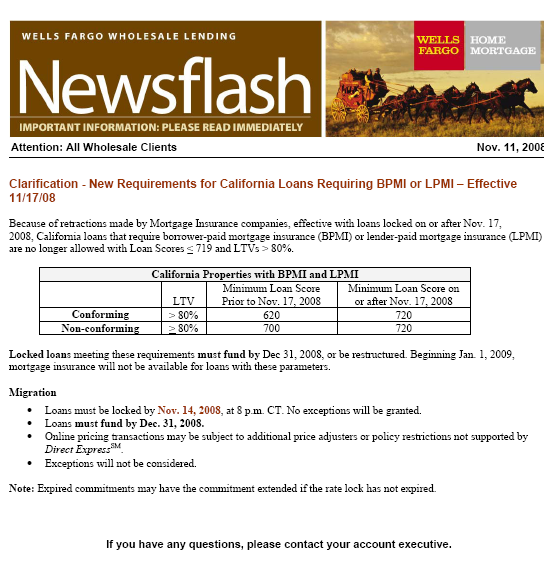 More Mr Mortgage