Posted on November 16th, 2008 in Daily Mortgage/Housing News - The Real Story, Mr Mortgage's Personal Opinions/Research
he default and foreclosure scene in CA remains a mess.  And now due to SB1137 that went into effect in early Sept and a yet new proposal that Schwarzenegger is pumping, performing meaningful analysis is difficult for most. However, due to my proprietary data and research I am able to shed a little light not available elsewhere on the happenings.
SB1137 recap– CA Foreclosures Fall 90%…Problem Solved? No Way!
Given the interruptions that Schwarzenegger's efforts have caused, I have included many more charts this Oct CA foreclosure report because I feel they speak much louder than my typical 10-page report.
This report will also give you a heads-up on the popular national foreclosure reporting services, which will report their findings this next week.  As with last month, they are likely to report that foreclosures flattened out but at lower levels than a few months ago. They may or may not report the real reason why. Luckily a few in the financial press such as Diana Olick from CNBC reported this accurately last month.
LEGISLATURE MESSING WITH THE FORECLOSURE NUMBERS

CA Notices-of-Default (NOD) and Foreclosures have fallen sharply since SB1137 went into effect on Sept 5th. This does not mean that borrowers are not missing payments and defaulting, rather banks are just not sending out notices while they get into compliance.
A few weeks ago, Governor Schwarzenegger proposed even more legislation requiring a '90-day stay of foreclosure' for those in default (link below). This initiative does involve re-underwriting the loan but to a fat 38% housing debt-to-income ratio, which is a nightmare. Add on 'other debt' and the borrower is still spending more than they are earning every month.
The key problems with Arnold's proposal is the same with all the others – they keep the borrowers underwater, highly leveraged and unable to sell the home, save money or refinance. These programs turn the owners into long-term, trapped renters.
This is their objective by the way because is does thwart foreclosures to some degree and it may make it cheaper on a monthly basis for some to stay than walk away and rent. But if home owners really think about the ramifications of staying upside down in a home for decades, hopefully they will not chose this route. This is not a solution, rather a disaster for anyone who signs up. See quote below – this is what got us into this mess in the first place.
Schwarzenegger Makes Proposal to Keep Homeowners in their Home
"Whenever possible, the administration wants lenders to rewrite loans in default so that borrowers would pay no more than 38 percent of their income toward their housing expenses, which typically include mortgage, insurance and taxes. To meet that goal, lenders could opt to reduce the loan's interest rate, lengthen the term of the loan to 40 years, or defer some portion of the unpaid balance to the end of the loan term."
Folks, a 38% housing DTI will ruin you especially if Obama raises taxes. It is better to walk away in most cases than do a loan mod at 38% DTI that lumps principal at the end of the loan. Why not walk- your credit will be trashed for 5-7 years but that is nowhere near as long as the real estate market will be trashed nor how long you will be stuck upside down in your home.
OCTOBER CA FORECLOSURE REPORT

Notice-of-Default (NOD): This chart represents the monthly NOD's filed in CA by institutions since Jan 2007 – the early stages of the foreclosure crisis.  NOD is the first stage of foreclosure typically filed after 3-4 months of missed monthly payments. Most of 2007 consisted primarily of Subprime defaults.  But in the past several months, as the Subprime implosion hit a plateau, higher paper grades such as Alt-A led by the Pay Option ARM, Jumbo Prime and Prime loans defaults began to surge filling the void. NOD's remained flat at record highs through the summer then tumbled in Sept when CA passed the SB1137 foreclosure prevention bill. This requires foreclosing institutions to do far more with respect to attempting to modify the loan than in the past. In my opinion, this simply kicks the can down the road because most mortgage modifications are not done as a permanent solution with a full re-underwriting of the borrower.
Note how the NOD problem looked to be taking off again in August before this bill was passed. If this wasn't passed I shudder to think of what NOD's would look like today.
Notice-of-Trustee Sale (NTS): This is the second stage of foreclosure and comes about 3-4 months following the NOD. This notice tells you your home will be sold at auction on a specific date. As you can see despite NOD's staying flat for the month, NTS grew sharply. I would assume that as institutions got into compliance they focused their attention on the defaulted borrowers earlier n the process figuring these had the greatest chance of repair – newer delinquencies have the best chance of being workout out.
Another thing to notice on the NOD v. NTS chart is the cure rate of NOD's has gone way down. This is especially evident when you compare April NOD's to July NTS…90%+ made it from NOD to NTS. That is a record.  In the past the majority of NOD's could be cured through a refi, sale, heloc etc. Now, the majority of NOD's make it to the NTS stage and subsequent third stage of foreclosure, the foreclosure sale.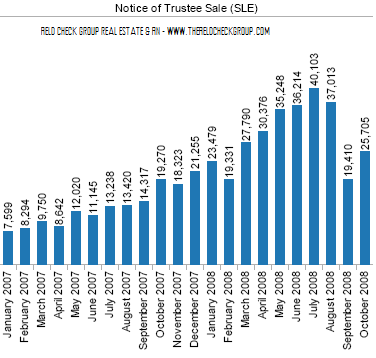 Bank Owned (REO): This is the final stage of foreclosure at which the home is actually sold at the Trustee Sale to either a third party or back to the bank as REO.  The chart below shows actual REO taken back by the bank.
Actual foreclosures were up nearly 1000% from Jan 2007 through Summer 2008. As with the previous two charts, the numbers have fallen sharply. Since the foreclosure auction stage is not governed by SB1137, this drop is a result of the institutions own actions, likely awaiting a final-final on TARP. I am sure most thought they would be able to sell distressed assets such as REO to the program. After hearing what King Henry said this week, I would expect REO to pick up significantly this month. I will keep you updated.
In the last three months, 95-97% of all properties that went to Trustee Sale were bought back by the foreclosing institution for the opening bid due to the lack of third party interest. This compares to a year ago when 50% were cured and never made it to the court house steps. These properties go back to the bank as REO.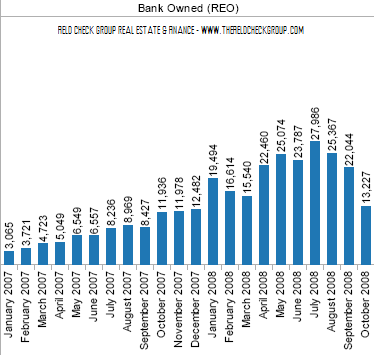 Sold to Third Party: The chart below shows the number of  properties sold to a third party at foreclosure auction. Even as prices are tumbling and institutions are discounting to 50% of the foreclosed note amount, very few sell at auction. Most go back to the banks as REO due to lack of third party buyer interest.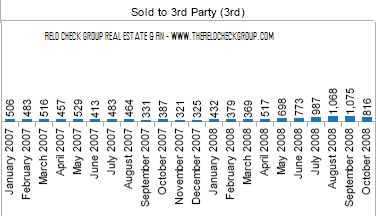 Cancelled Auctions: Below shows cancelled auctions. This is where your missing REO for October is. The cancelled auction count jumped nearly 100% from Sept to Oct.  This means a) banks can't handle any more REO b) banks are likely giving borrowers more time to work out a terrible loan modification that keeps then as underwater, over-leveraged renters in their homes for life.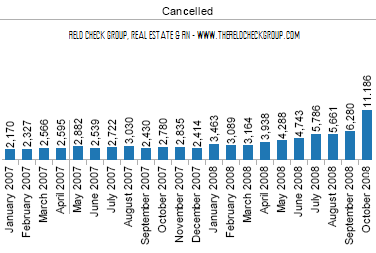 Of Note – Loan Amounts: In recent months, unit dollar volume has moved much higher. Last year the average NOD was roughly $350k as Subprime loan amounts are typically smaller. Earlier this year the moved to the $425k and in October 2008 the average loan amount was over $450k. This is representative of the default crisis moving into higher paper grades in addition to the high percentage of negatively amortizing loan balances being foreclosed upon.
Data: Courtesy of The Field Check Group Real Estate & Finance in partnership with Foreclosure Radar
If you are an investment fund or research firm looking for much more detailed information on the housing, mortgage or credit markets please contact me at MrMortgageTruth@gmail.com
More Mr Mortgage