Posted on November 18th, 2008 in Daily Mortgage/Housing News - The Real Story, Mr Mortgage's Personal Opinions/Research
ABX and CMBX spreads are predicting Armageddon is upon us. The credit markets are locked up tight, as it is obvious that there is no more that can be done through intervention.  Despite the financial media pumping that the 'credit markets are thawing', deals are not getting done, credit across all sectors is tighter than ever and it is getting worse by the day.
The rush into US Treasuries is intense. To top it off, Bloomberg ran a story that Buffett's Berkshire CDS are blown out to 415 from 140 a few weeks ago. Arguably, stocks are not following credit rather trading in a vacuum on rumor, hype and hope whistling past the proverbial graveyard.  Paulson announcing publicly that TARP would not be used to buy troubled assets dashed most of the remaining hope.
There are very few words to describe the action in the ABX and CMBX indices since it was made public that TARP would not be used to buy distressed assets. The pictures below are worth 1000 words. Today, Paulson argued that 'the financial markets are much more stable today than before the TARP'.  These pictures argue the opposite. These pictures are as close to Armageddon as the financial markets and possibly system has ever been. -Best, Mr Mortgage
AAA residential – ABX second half 2007 HIGHEST GRADE credit at 31 cents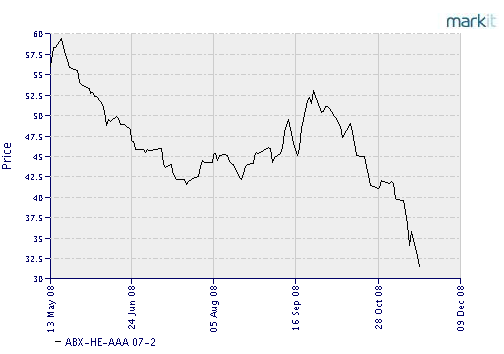 AA residential – ABX second half 2007 AA credit at 6 cents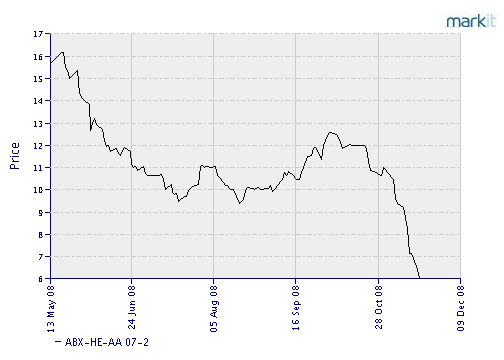 BBB residential – ABX second half 2007 BBB credit 3 cents (very little difference between AA and BBB)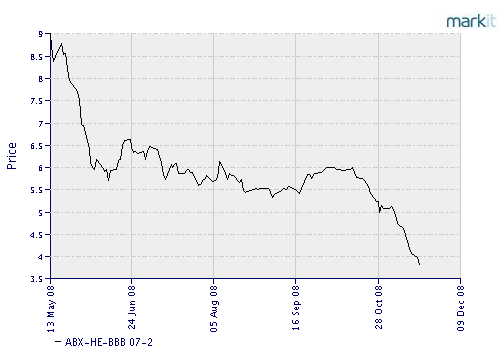 AAA Commercial – HIGHEST GRADE – Spreads have gone parabolic! From 200 to over 550 in a week.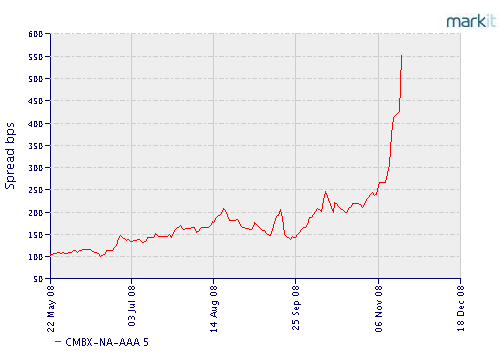 BBB- Commercial – LOWEST GRADE – absolute implosion! Yes that's 3800.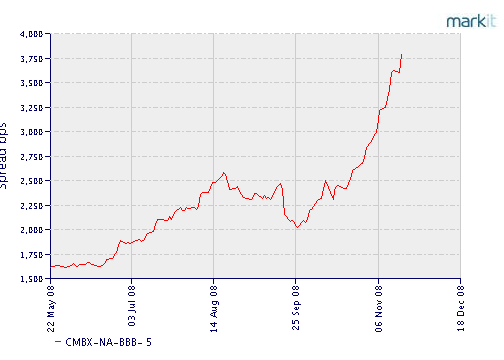 Lastly, commentary from my new favorite blogger, Across the Curve about the action.
November 18th, 2008 1:38 pm
There is carnage in the asset backed markets again. I am not well versed on this stuff but in cobbling together a story it is pretty ugly. So by way of example one derivative veteran noted that the last cash flow AAA pieces of the ABX Index have declined 14 points in the last month.The failure of the Administration to roll out the TARP has done major damage in the cash CMBS market. AAA paper in this market is trading swaps plus 1000 basis points. Investors in the sector did not load up the boat in anticipation of higher prices but the anticipation of the Administration as White Knight did act to motivate some potential sellers to congregate on the sidelines. With the news that the White Knight will not arrive, many of those folks are now disengorging themselves of securities.
The CMBX index has widened 75 basis points today and has moved 250 basis points in the last 5 days. Market participants inform me that insurance companies are loaded to the gills with this stuff and are probably feeling quite uncomfortable.
Most of the participants felt that the pressure to unload this stuff would be unrelenting between now and year end and it is likely that spreads will continue to widen.