Posted on November 24th, 2008 in Daily Mortgage/Housing News - The Real Story, Mr Mortgage's Personal Opinions/Research
I heard this morning from several popular media sources that that prices falling, month's supply coming down and foreclosures as a percentage of total sales rising is a 'great thing' for housing.  DON'T BELIEVE IT! These are the same forces as we have seen for the past year and the housing market is worse off today than ever.
This report clearly shows that as values are dropping sales are plunging. THE MARKET IS GETTING MUCH WORSE BY THE MONTH. Values are actually falling at an accelerated rate – as values drop all sorts of bad things happen.  Show me a month where a) organic sales rise b) values stay flat or rise and c) new loan defaults and foreclosures stay flat or drop d) foreclosure related sales rise – that would be a positive. At present, 'd)' is the only factor in place.
1) When one person gets a 'great deal' on a foreclosure in a neighborhood all similar homes within the appraisal zone (one mile radius) lose value. This puts everyone closer to or deeper into a negative equity position exponentially increasing their likelihood of loan default. This creates more foreclosures, which creates more supply, which pushed home prices down further. This exponentially increases likelihood of loan default, creates more foreclosures, which creates more supply, which pushes home prices down further and so on and so on.  It is amazing nobody understands how devastating this negative feedback loop is. It is great that all of you do.
Make no mistake about it – MOST BORROWERS ARE NOT WALKING BECAUSE THE CAN'T AFFORD THE PAYMENTS. They are walking because all of their after-tax income each month is going out in bills and the largest portion is going to a home worth half of what they owe. When they are spending such a large portion of their income on a massively depreciating asset, it makes good financial sense to dump that asset. When you can't sell, that means walk away.
2) With respect to month's supply dropping it makes no difference. Month's supply is absolutely flawed because a) banks don't list all their REO for sale – the amount of shadow REO dwarfs that actually listed b) as prices fall home owners trying to sell their properties have to pull their listings because they can't sell for more than the home is worth c) at the end of the summer selling season inventories always plunge as sellers pull listings awaiting the Spring selling season.
3) Foreclosures now make up 45% of all sales as reported by the NAR. Organic sales, which are typically the all-important 'move-up buyer' and gauge the true health of the housing market are at record lows.  Organic sales plummeting means that home owners are not freely able to transact. This tells me a few things a) that home owners are stuck upside down in their home and can't sell b) the all-important move up buyer is non-existent and can't even afford to buy the home they presently live in due to lack of financing c) home owners can't sell their home in order to get the down payment for the new home. Organic sales dropping each month is a leading indicator to foreclosures that most have not put together yet.
4) New loan Notice-of-Defaults, which is the first stage of foreclosure, were running over 40k per month in CA before SB1137 but will get back there soon. Nationally, defaults are running close to 100k per month. Currently 9% of all mortgage loans in existence are in default due to the Mortgage Bankers Assoc of America. Unlike a year and a half ago there is very little that can be done to cure a default – in the past you could sell or refinance. Now, some 75-90% of defaults make it all the way to the foreclosure stage depending on the state.
5) Non-seasonally adjusted sales PLUNGED as values dropped – this is not good. Look at the charts below from NAR. They clearly show the rate of sales has fallen 17.1% in the past 120-days while values have fallen 12.9% during the same period. THIS IS A TERRIBLE TREND…HOME SALES & VALUES ARE NOT GOING IN THE RIGHT DIRECTION.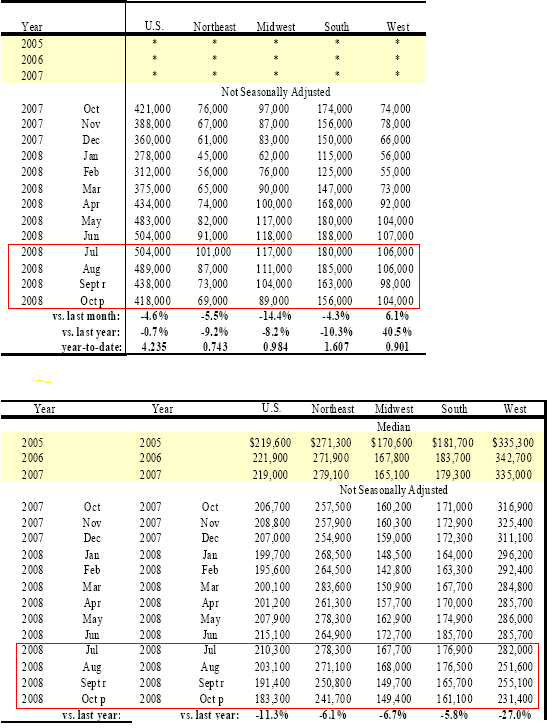 WHERE FROM HERE
Home prices must fall much further in most regions in the nation in order to achieve affordability given present financing options. That is of course unless people start paying cash for home, which just may be possible if they continue falling at this pace. Or I suppose if they bring back all of the exotic loans that were lost or everyone gets a 300% raise – these things could solve the problem quickly as well.
Everything done to date, including all of the new announcements from the banks, lawmakers and regulators about mortgage modification have been an attempt to artificially keep values higher. This is not the solution. The solution is to hasten their rush their decent to a clearing price at the same time, preventing as many loan defaults as possible through principal balance reduction mortgage modifications.
I talk about the solution in The Great Loan Modification Pump – GOD SAVE US ALL!
Existing Home Sales Highlights
Source: U.S. October Existing Home Sales Fall 3.1% to 4.98 Million Pace
By Timothy R. Homan Nov. 24 (Bloomberg)
Home resales in the U.S. dropped in October and prices fell by the most on record, signaling a deepening housing recession going into 2009.
Purchases of existing homes declined 3.1 percent last month
The median price fell 11.3 percent to $183,300 from a year earlier, the largest year-over-year decrease since records started in 1968.
"The large number of homes already on the market and the number of those that will appear via foreclosure over the next several months only add to the diminished prospects for existing home sales,"
The median price of an existing home was the lowest since March 2004.
Prices fell in all regions of the country, led by the West.
Falling home prices make it harder to refinance mortgages and have pushed foreclosure filings up 25 percent in October from a year ago, according to RealtyTrac Inc., the Irvine-California-based seller of default data.
Last Updated: November 24, 2008 10:00 EST