Posted on December 3rd, 2008 in Daily Mortgage/Housing News - The Real Story, Daily Stock Market / Economic News - The Real Story, Mr Mortgage's Personal Opinions/Research
Like many of you I have 10s of thousands of saved press releases from the past couple of year I like to read back through occasionally. Beginning today I am going to start posting some of the stories that seem important to me but have been blown over by the mainstream.  For a story to qualify, the content must evoke a feeling of overwhelming sickness or blind rage in me.  Both below qualify. Click the links to each story to read the full story. -Best Mr Mortgage
Citigroups 'Capital' Was All Casing, No Meat – Bloomberg, by Jonathan Weil
Citigroup has "very strong capital," the bank kept saying.
Its capital was so strong that the New York-based lender yesterday was ironing out yet another federal bailout. One lesson here is: There's something very wrong with the way Citigroup and the government measure capital.
To see why, let's dig into just one portion of Citigroup's capital that has been soaring in value this year. It's called deferred-tax assets, or DTAs, which now make up a big part of Citigroup's book value and Tier 1 regulatory capital.
You won't see anything about these assets' values in Citigroup's third-quarter report to shareholders. The bank buried them on its balance sheet in a line called "other," and it discloses them in its financial-statement footnotes only once a year. You can piece together how much the values had grown, though, from Citigroup's filings with the Federal Reserve Board.
Deferred-tax assets typically consist of tax-deductible losses carried forward from prior periods, which companies can use to offset future tax bills. Under generally accepted accounting principles, such carryforwards are valuable only to companies that are profitable and paying income taxes.
To the extent a company doesn't expect to use these assets, it's supposed to record an offsetting valuation allowance to reduce their value. DTAs also can take the form of carrybacks, which let companies claim refunds of past taxes paid.
As of Sept. 30, Citigroup's net DTAs were about $28.5 billion, after subtracting deferred-tax liabilities. That represented 29 percent of the bank's common shareholder equity and a whopping 80 percent of tangible equity, which excludes goodwill and other intangible assets. On a gross basis, DTAs were even bigger; the bank hasn't disclosed how much.
By comparison, Citigroup's stock-market value finished last week at $20.5 billion. The longer Citigroup goes without chopping its DTAs, the more investors should be wary of any of its numbers.
So, in truth, Citigroup had little, if any, real capital, even if the values for all its toxic loans and mortgage-related investments had been accurate. Most of the above-listed items won't help the bank absorb losses. Rather, they are the kinds of things that cry out for more capital.
The market cheered over the Citi bailout but I doubt it could handle BofA and Wells going back to the TARP trough in order to stay alive. If BofA or Wells were to suddenly find their share price under significant pressure as Citi did a couple of weeks ago it may unravel even quicker than Citi. These two banks are something to keep your eye on.  For some reason folks think Wells avoided all of this – just the opposite. My research and years of competing against them in the mortgage space proves just the opposite. Bank of America was the one that avoided it all. They only got screwed up by taking down Countrywide and Merrill. Wells was a mess going into their Wachovia buyout and adding Wachovia makes then not too much different than BofA.
After Citi, is Bank of America Next? Reuters by Elinor Comlay
NEW YORK (Reuters) – A government rescue plan has eased investors' concerns about Citigroup Inc, but mines lurking in the balance sheets of rivals including Bank of America Corp could still tempt short-sellers.
Bank of America, the No. 3 U.S. bank by assets, has loaded up on mortgages as the world's largest economy wrestles with the worst housing market since the Great Depression.
Analysts at independent research company CreditSights forecast that in a scenario where the commercial and residential real estate markets really tank beyond banks' expectations, Bank of America would have a Tier-1 capital ratio of 7.15 percent.
The minimum that regulators seek to consider a bank "well capitalized" is 6 percent, but any ratio near or below 7 percent tends to spook investors.
Bank of America declined comment.
CreditSights also expressed concern about Wells Fargo & Co, which it said would have a Tier-1 capital ratio of 6.98 percent under its worst case scenario. Wells Fargo recently agreed to buy Wachovia Corp.
Under the same assumptions, and before the government's latest investment, Citigroup would have a Tier-1 capital ratio of 8.64 percent.
Wells Fargo, based in San Francisco, declined to comment.
Lastly, Bill King my favorite market seer recently wrote this about the big one.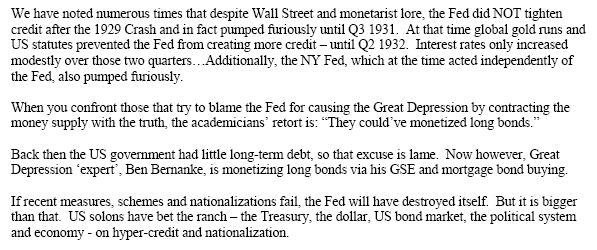 More Mr Mortgage Stories