Posted on December 5th, 2008 in Daily Mortgage/Housing News - The Real Story, Mr Mortgage's Personal Opinions/Research
I originally posted the negative equity story below on November 10th.  I am hard to shock, but this one is worth revisiting now that analysts and the media think we are going through some major mortgage recovery. Reality could not be further from that. Remember, in bubble states negative equity is so epidemic that 60% of all homes in CA, greater than 95% in NV, 65% in AZ and 63% in FL are in or near negative equity.  Nationally, 41.6% of all home owners are at or near negative-equity and can't refinance or sell without bringing significant cash into the transaction, which very few ever opt to do.
Rates have come down slightly for the top 5% of all borrowers who can get the best rates offered.  They are now about 5.625%, down from about 6% two weeks ago.  Now speculation is that rates will come down to 4.5%, but I am also hearing this is only for purchase loans obviously in order to help the builders – we need more homes being built, of course.  Nevertheless, in the states that need the most help with their housing markets, the amount of negative and 'near' negative equity will keep folks out of the mortgage market even if rates go to zero.
Additionally, for the 95% of folks who do not fit inside the tight lending base-rate box, rates are really not that low.  This is because over the past year Fannie/Freddie have significantly tightened their guidelines. Anyone who lies outside that box pays much higher rates.  I talk about it here… Mr Mortgage: In-Depth Look at Mortgage Rates…5.5% Does Not Exist For Most
If it were two years ago, the analysts and media would be correct. During the bubble years everyone fit into the box because it was much larger, and when rates fell 1/2% it really did spur massive refinance activity. It is just not the case today. -Best, Mr. Mortgage
BUBBLE STATES AWASH IN NEGATIVE-EQUITY

November 10th, 2008 by Mr Mortgage
One of my primary arguments that the foreclosure crisis has a long way to go has to do with to the massive amount of negative equity in the hardest hit, most populated 'bubble states'. These are the very states that added so much to the great wealth effect.
Negative-equity is FICO-score and loan type blind.  In the new era of 'my house is my largest investment', most everyone feels the same way about paying into a massively depreciated asset. This is even more the case when the payment increases on an exotic-type loan such as a 2/28, Pay Option ARM or even a Prime 5/1 Interest Only.
In the hardest hit states, those not in a negative equity position have very little equity remaining given the current data. This is why the all-important move-up buyers are non-existent and over half of the homes sold are from the foreclosure stock. This is also why if rates drop, many will not benefit from refinancing.
With lending tightened to such a large degree, sizable down payments are now required to attain the best financing. Ideally, a buyer wants to extract the down payment and all other purchase expenses through the sale of the property.  However, with the median Loan-to-Value's in the bubble states being so high there is not enough left over from the proceeds to pay a real estate agent, put a down payment on the new property and cover all of the other costs associated with moving.  People are stuck in their properties unable to move or refinance.
This recent data from Loan Performance below corroborates my research. The first chart shows the amount of negative equity in each state.  In addition, I added the top 10 foreclosure states per Realty Trac in the third column. With the exception of Illinois and Indiana, the top 10 negative equity states are the same as the top 10 foreclosures states. Nevada and Michigan top the list…a solution there may be bulldozers and gasoline.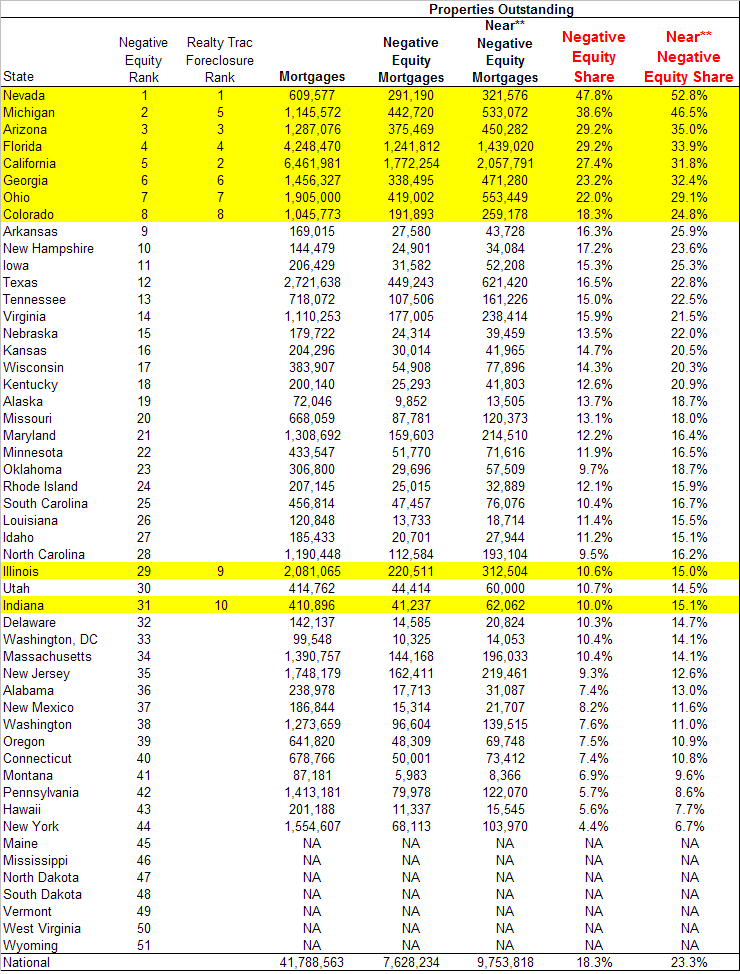 This second chart shows the median Loan-to-Value in each state.  The top negative-equity states have the highest median Loan-to-Value ratio (littlest amount of equity).  Note that this does not include second mortgage debt so if there are seconds, the CLTV is going to take the Loan-to-Value Ratio below much higher. The housing markets within these states are frozen, as the majority home owners are unable to freely transact.
Important note – these estimates of equity are based upon Loan Performance's proprietary House Price Index, which may or may not be accurate – home price indexing has been an impossible task for everyone to date.  The numbers could be much worse if their valuation models are off.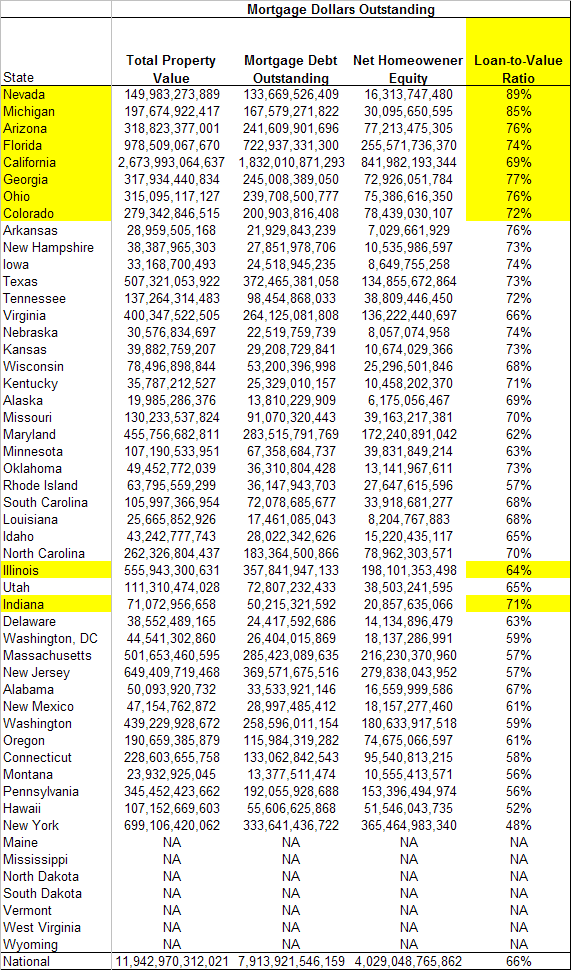 The charts above scream loudly about what WILL happen, as loans now considered 'high-grade' or 'Prime' begin to adjust or even borrowers in 30-year fixed rate loans who put 20% down but bought at the wrong time find it a financially prudent move to de-leverage and walk away.  We are seeing this happen today in ever increasing numbers.
Source: Inman News: Nearly 10 million homes upside down
More Mr Mortgage